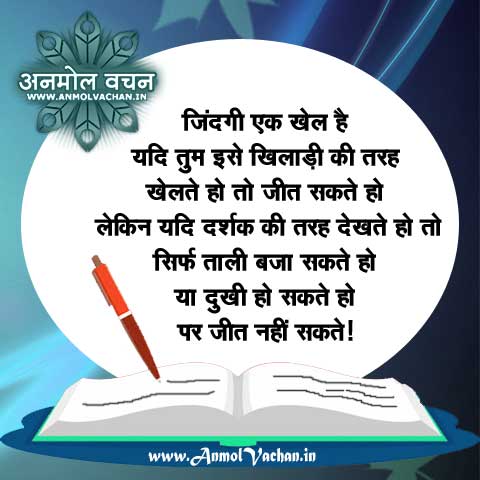 जिंदगी एक खेल है यदि तुम इसे खिलाड़ी की तरह
खेलते हो तो जीत सकते हो लेकिन यदि दर्शक की तरह
देखते हो तो सिर्फ ताली बजा सकते हो या दुखी हो सकते हो
पर कभी जीत नहीं सकते!!
Zindagi Ek Khel Hai Yadi Tum Ise Khiladi Ki Tarah
Khelte Ho To Jeet Sakte Ho, Lekin Yadi Darshak Ki Tarah
Dekhte Ho To Sirf Tali Baja Sakte Ho Ya Dukhi Ho Sakte Ho
Par Kabhi Jeet Nahi Sakte!!