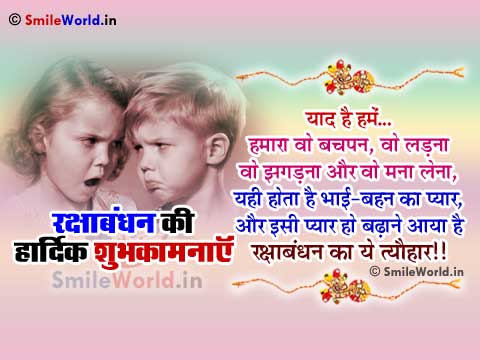 याद है हमें… हमारा वो बचपन,
वो लड़ना वो झगड़ना और वो मना लेना,
यही होता है भाई-बहन का प्यार,
और इसी प्यार हो बढ़ाने आया है,
रक्षाबंधन का ये त्यौहार!!
रक्षाबंधन की हार्दिक शुभकामनाएं!!

Yaad Hai Humein…
Humara Wo Bachpan, Wo Ladna,
Wo Jhagadna Aur Wo Mana Lena,
Yahi Hota Hai Bhai-Behan Ka Pyar,
Aur Ishi Pyar Ko Badhane Aaya Hai,
Rakshabandhan Ka Ye Tyohar….
Happy Raksha Bandhan!!
---
I wish you were in real not in imagination…
Having brother is pretty cool and blissful,
but having a sister is something like your shadow..
---
Happy Raksha Bandhan
To the favourite partner in crime
To the ghost story teller
To the legal theif of personal stuffs
To the feelings shareholder
And to the Tom of a Jerry.
---
Rishi is a bully,
Di…, I cried.
Don't you dare, Rishi!
I swear, I won't, Rishi sobbed.
A few 'Raksha Bandhans' are different.
---
मेरे घर आकर चले जाते हैं त्यौहार
ना जाने क्यूँ सब बंधन कच्चे लगते हैं
मैंने अपनी आँखों से देखी है कई सूनी कलाईयाँ
सच में बहनों के बिना धागे कहाँ अच्छे लगते हैं
---
आज केदिन भैया की बहुत याद आती हे।
काश मेरा खुद का एक भाई होता।
मन सूना लगे मेरा।
पर यहा मुजे ऐसे भाई मीले हे।
जो मेरे खुद के ही भाई लगते हे।
आज राखीका त्योहार, जहाँभिहो खुश रहे।
दुआएं मेरे सब भाई के लिए!
आरजु तुम्हारे लिए मेरी उमर तुम सबको लग जाये।
बड़ा आसमाँ मिले।
पवन संग भेज रही हूँ मैं सौसौ दुआयें जा~रे।
भाईया तक पहुंचा~!
मुश्किल राहों के पहरेदार हो!चाँद सितारे संगे।
भेज रही हूँ संदेशा
बचपन में हम डूब रहें !
आज रखी का त्योहार !
राखी बाँध के हमें इकबार जरूर याद करना।।
शुक्रियाँ मुझे अपनी बहेना बोलने के लिए 🙏
---
Best Wishes for Rakhi / Raksha Bandhan Hindi Greeting Wishes and Messages for Facebook and Whatsapp, Download Latest Collection of Rakhi Messages Wishes