If You Are Looking for A Best Happy New Year Greetings, Wishes Images and Wallpapers Here You Can Get Free Happy New Year Wishes in Hindi and English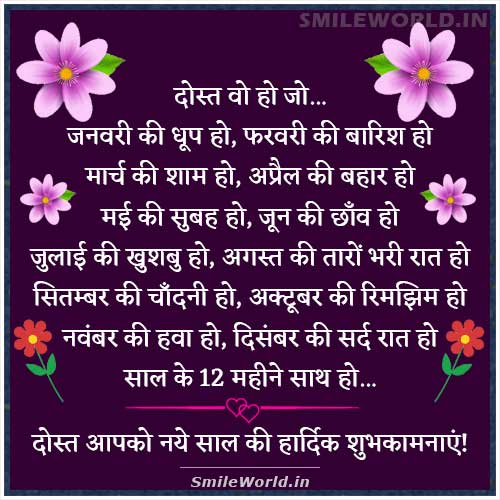 दोस्त वो हो जो…
जनवरी की धूप हो
फरवरी की बारिश हो
मार्च की शाम हो
अप्रैल की बहार हो
मई की सुबह हो
जून की छाँव हो
जुलाई की खुशबु हो
अगस्त की तारों भरी रात हो
सितम्बर की चाँदनी हो
अक्टूबर की रिमझिम हो
नवंबर की हवा हो
दिसंबर की सर्द रात हो
साल के 12 महीने साथ हो…
दोस्‍त आपको नये साल की हार्दिक शुभकामनाएं!
---
Day by day teri khusiya ho jaye double,
Teri zindagi se delete ho jaye sare trouble,
Khuda rakkhe hamesha tujhe smart & fit,
Tere liye New Year ho super-duper hit!!
---
आपकी आंखों में सजे हैं जो भी सपने,
और दिल में छुपी हैं जो भी अभिलाषाएं,
यह नया वर्ष उन्हें सच कर जाए,
आपके लिए यही है हमारी शुभकामनाएं!
---
Naye Sapane
Naye Apne
Naye Vade
Naye Kasme
Naye Manzil
Naye Rahe
Nayi Baat
Naya Vishwas
Kooch Simple
Kooch Khas
Har Pal rahe Bindass
Happy New Year
---
दोस्तों साल बदलेगा, साथ नहीं बदलेगा…
हमारा साथ यूँ ही बना रहेगा
नया साल आपका
शुभमय मंगलमय लाभमय हो ऐसी कामना
स्वस्थ रहो, मस्त रहो, सदा हँसते रहो, हँसाते रहो..
💐हैप्पी न्यू ईयर दोस्तों!💐
---
:: New year sms in advace ::
Hum Aapke Dill Main Rahte Hain!
Saare Dard Aap Ke Sahte Hai!
Koi Hum Se Pahle "Wish" na karde aapko!
is liye Phale "Happy New Year" Kahte hai..
---
सदा दूर रहो ग़म की परछाइयों से
सामना न हो कभी तन्हाईओं से!
हर अरमान हर ख्वाब पूरा हो आपका
यही दुआ है दिल की गहराइयों से!
नव वर्ष की हार्दिक शुभकामनायें!
Happy New Year
---
Aa gaya hai nayaa saal
Is naye saal men aao karen kaamana ke
ye sabhi ko rakhe khushahaal
jo hain gareeb aur kangaal
unako bhi ye bana de maalaamaal
Desh ke bhrashtaachaar ko mita de
aur le aaye ek majaboot Lokpaal
Naya sasl Mubarak
---
मुबारक हो तुम्हे नववर्ष का महीना,
चमको तुम जैसे फागुन का महीना,
पतझर न आये तेरी जिन्दगी में,
यही हैं दोस्त अपनी तम्मना,
नव वर्ष की हार्दिक शुभकामनाएं!
---
Laxmi ka haath ho
Sarswati ka saath ho
Ganesh ka nivas ho …
Aur Laxmi ke ashirwad se…
Apake jivan main prakash
hi prakash ho
"Happy new year"
---
इस नए साल में खुशियों की बरसते हो
प्यार के दिन और मोहब्बत भरी राते हो
रंजिशे नफरते मिट जायें सदा के लिए
सभी के दिलो में ऐसी चाहतें हो…
---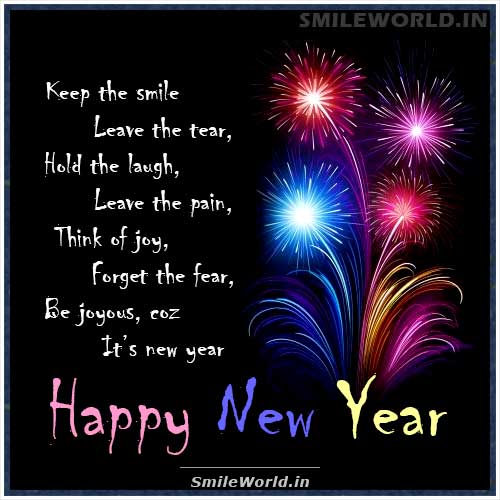 Keep the smile
Leave the tear,
Hold the laugh,
Leave the pain,
Think of joy,
Forget the fear,
Be joyous, coz
It's new year ! Happy new year
---
आया झूम कर नया साल
लाया खुशियां हज़ार
खुश रहे आप हर हाल
मुबारक हो आपको नया साल
---
Blooming Flowers
Sparkling Crackers
Colorful Night
Sweetest Bite
Smiling Faces
Delicious Dishes
Only Luv, No Fear
Let's Welcome the New Year.
@@Happy New Year@@
---
जब तक भंवरे झूमेंगे फूलों की डाल पर,
यही शुभकामनाये देता रहूंगा हर नए साल पर
Happy New Year
---
Duaon ki soghat liye
Dil ki gehrai se
Chand ki roshni se
Pholon k kaghaz per
Aap k liye sirf 3 lafz
HAPPY NEW YEAR || new year msgs in hindi ||
---
हो आपके जीवन में खुशियाली,
कभी भी न रहे कोई दुख देने वाली पहेली,
सदा खुश रहें आप और आपकी Family,
Happy New Year
---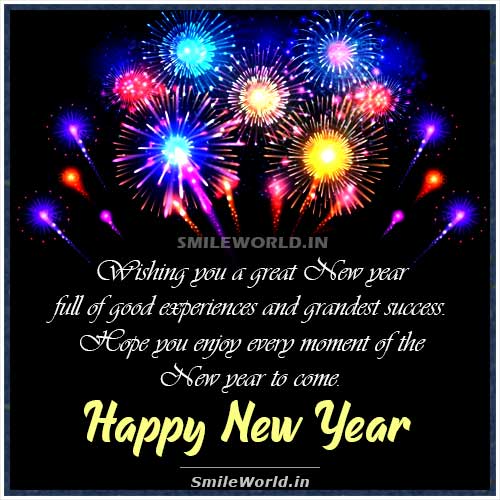 Wishing you a great New year
full of good experiences and grandest success.
Hope you enjoy every moment of the new year to come.