Happy Dussehra / Vijayadashami SMS in Hindi, Vijaya Dashami Shayari in Hindi Messages for Facebook and Whatsapp Status Update, Happy Dussehra SMS in Hindi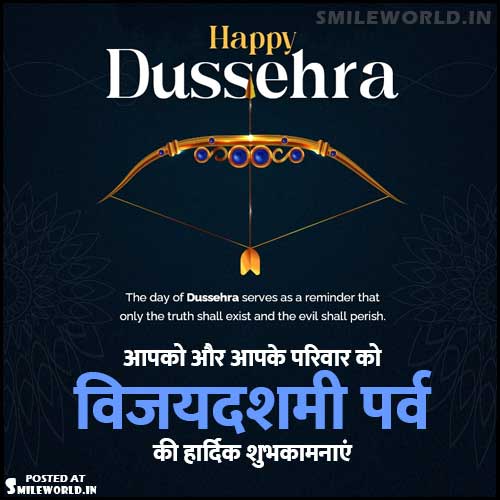 Chandan Ki Khushbu Resham Ka
Haar, Saawan Ki Sugandh Baarish
Ki Fuhar, Radha Ki Ummide
Kanhaiya Ka Pyar, Mubarak Ho
Apko Vijayadashmi Ka Tyohar…..
---
Bagh me phul khile
har khushi aapko mile
kabhi na ho dukho ka samna
Yahi meri Dashhara ki Shubhkamna.
---
May All The Tensions In
Your Life Burn Along With
The Effigy Of Ravna. May
You Be Successful And
Happy Ever! Happy Dussehra!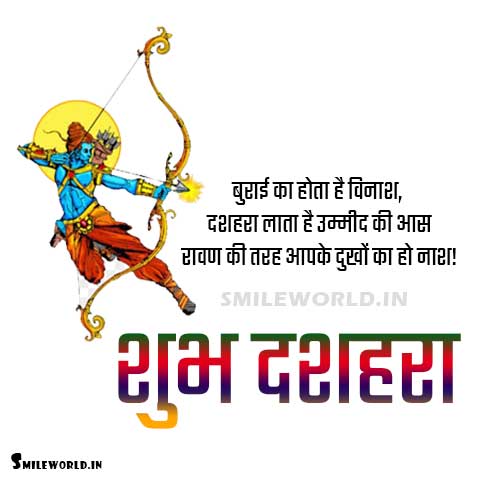 बुराई का होता है विनाश,
दशहरा लाता है उम्मीद की आस
रावण की तरह आपके दुखों का हो नाश!
"Happy Dussehra"
---
तिन लोग आपका नंबर मांग रहे है, ने नहीं दिया |
पर आपके घर का पता दे दिया है |
वो दशहरा के दिन आयेंगे | उनके नाम है!!
सुख |
शांति |
सम्रुद्धि |
HAPPY DUSSEHRA
---
Dasha Hara is a Sanskrit word
which means removal of ten bad qualities within you
Kama vasana (Lust)
Krodha (Anger)
Moha (Attachment)
Lobha (Greed)
Mada (Over Pride)
Matsara (Jealousy)
Swartha (Selfishness)
Anyaaya (Injustice)
Amanavta (Cruelty)
Ahankara (Ego)
---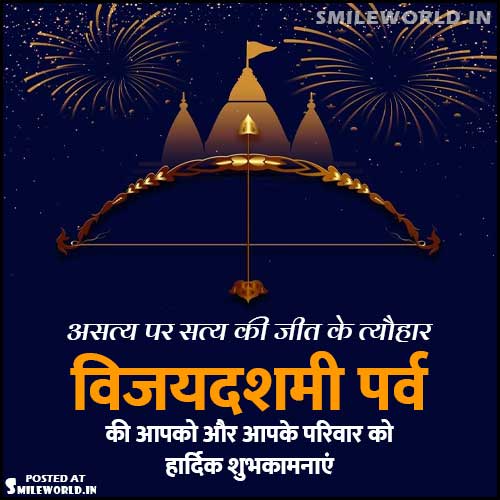 असत्य पर सत्य की जीत के त्यौहार
विजयदशमी की आपको और आपके परिवार को
हार्दिक हार्दिक शुभकामनाएं… ईश्वर आपको नई ऊंचाइयां दे।
---
Aatanki Raavan ..
ka dahan kar ne aaj fir shree ram ko aana hoga ..
Bolo jai shree ram ..
*Happy Dussehra*
---
आज की नई सुबह इतनी सुहानी हो जाए,
आपके दुखों की सारी बातें पुरानी हो जाएं,
दे जाए इतनी खुशियां ये दशहरा आपको,
कि ख़ुशी भी आपके मुस्कुराहट की दीवानी हो जाएं ।
आपको और आपके परिवार को दशहरा की बहुत-बहुत शुभ-कामनायें.