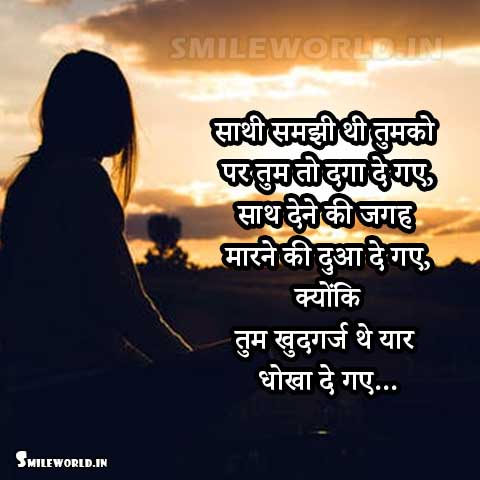 साथी समझी थी तुमको पर तुम तो दगा दे गए,
साथ देने की जगह मारने की दुआ दे गए,
क्योंकि
तुम खुदगर्ज थे यार धोखा दे गए…!!
Sathi Samjhi Thi Tumko,
Par Tum To Daga De Gaye,
Sath Dene Ki Jagah…
Marne Ki Dua De Gaye!!
Kyoki…
Tum Khudgarz The Yaar… Dhokha De Gaye!!
---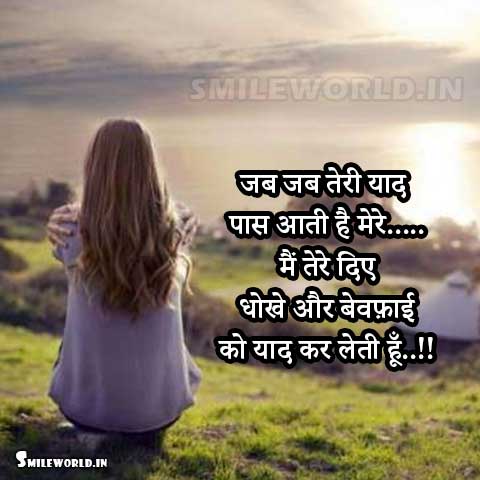 जब जब तेरी याद पास आती है मेरे…..
मैं तेरे दिए धोखे
और
बेवफ़ाई को याद कर लेती हूँ..!!
Jab Jab Teri Yaad…
Pass Aati Hai Mere!
Mein Tere Diye Dhoke Aur Bewafai
Ko Yaad Kar Leti Hun…
---
बात चल निकली है तुम इश्क नहीं करते
सब जान गए हैं तुम फरेब अच्छा नहीं करते
जेब काटने आए थे बावला समझकर
अंजाम भी चाहिए ब्लेड भी तीखा नहीं करते !!
---
तुम्हारे लिए मैने कुछ खास लिखा है।
दूर कब तक रहोगे मुझसे
खुदा ने किस्मत में मेरी तुम्हें मेरे पास लिखा हैं।।