Download and Share With Friends on Facebook and Whatsapp Best Ganesh Chaturthi Wishes and Subhkamnaye in Hindi, Ganesh Chaturthi Hindi Images and Wallpapers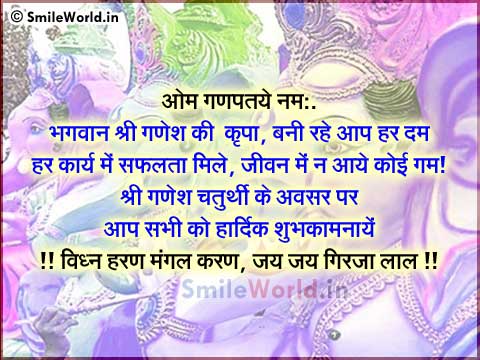 ॐ गं गणपतये नमः
भगवान श्री गणेश की कृकृपा, बनी रहे आप हर दम
हर कार्य में सफलता मिले, जीवन में न आये कोई गम!
श्री गणेश चतुर्थी के अवसर पर
आप सभी को हार्दिक शुभकामनायें..!!
!! विध्न हरण मंगल करण, जय जय गिरजा लाल !!
ॐ Ganpataye Nama:
Bhagwaan Shri Ganesh Ki Kripa, Bani Rahe Aap Par Har Dum!
Har Kariya Main Safalta Mile, Jeevan Main Na Aaye Koi Gum!
Shree Ganesh Chaturthi Ke Awsar Par
Ganesh Chaturthi ki Aap Sabhi Ko Hardik Subhkamnaye!!
---
मै हर रोज गुनाह करती हूं
तू हर रोज माफ करता है बप्पा
मै आदत से मजबूर हूं, तू रहमत से मशहूर है
गणपती बाप्पा मोरया
---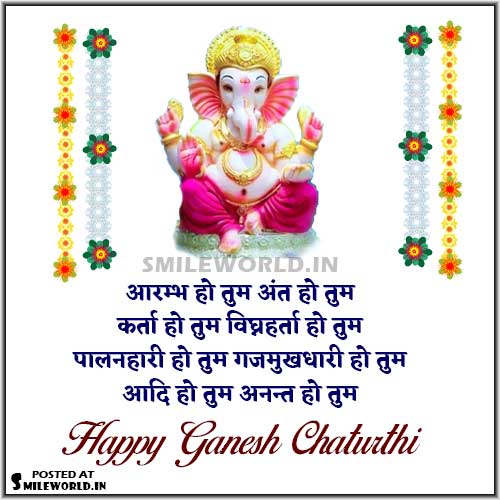 आरम्भ हो तुम अंत हो तुम
कर्ता हो तुम विघ्नहर्ता हो तुम
पालनहारी हो तुम गजमुखधारी हो तुम
आदि हो तुम अनन्त हो तुम
Happy Ganesh Chaturthi
---
🙏विघ्नविनाशक गजानना🙏
🙏गणपति देवा गजानना🙏
🙏रिद्धि सिद्धि के दाता हो🙏
🙏मेरे भाग्य-विधाता हो🙏
---
जब रास्ता लम्बा हो और मंजिल
दूर तब एक ही नाम हौसला दिलाता है
गणपति बप्पा मोरया 🙏🙏
Happy Ganesh Chaturthi