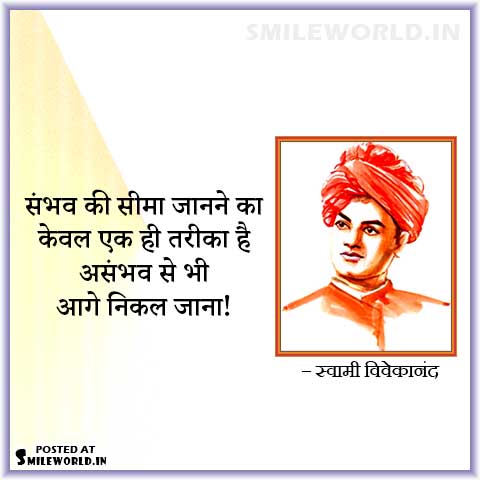 संभव की सीमा जानने का केवल एक ही तरीका है
असंभव से भी आगे निकल जाना…!! ~ स्वामी विवेकानंद
Sambhav Ki Seema Janne Ka Kewal
Ek he Tarika Hai…
Asambhav Se Bhi Aage Nikal Jao…!! ~ Swami Vivekananda
---
Identify your own quality,
which is existing within you and let them
flourish in a free and fresh environment
of your social perspective with your full capacity.
Never wait for others,
but use your own knowledge for the
construction of individual and social character.
---
Please generate some
humanity and brotherhood
Please abandon drink habit
And make a beautiful world creation
Spread positiveness everywhere
which also make you positive ….😊🙏
-Swami Vivekananda
---
वाक्यों की भरमार नहीं
बस शब्द चंद हो जाए
लिख लिखकर उन्मुक्त
जैसे विवेकानंद हो जाए!