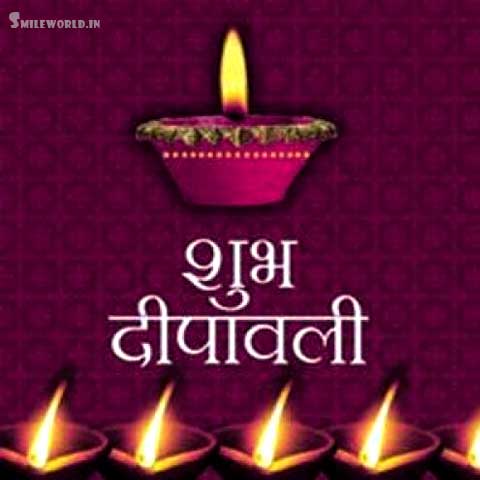 सफलता कदम चूमती रहे,
ख़ुशी आसपास घूमती रहे,
यश इतना फैले की कस्तूरी शरमा जाये,
लक्ष्मी की कृपा इतनी हो की बालाजी भी देखते रह जाये,
Safalta Kadam Chumti Rahe,
Khushi Aaspas Ghumti Rahe,
Yash Itna Faile Ki KASTURI Sharma Jaye,
Laxmi Ki Kiripa Etni Ho Ki BALAJI Bhi Dekhte Rah Jaye,
Happy Deepavali
---
जल के भी कितनी राहत
मिलती है पता चले ।
ख़ुदा मुझे किसी गरीब के
घर का चूल्हा बना दे।।
---
Mai ghar baitha ek akele kamre me dunia saari jeetna chahta hu,
Chirag uthakar aasmaan se mai zameen par sitare banata hu,
Jab dunia saari bijli wale jugnuo se jagmagati hai,
Mai ghar baitha umeed ki lau par mitti ke diye jalata hu.
---
Holding
diya in one hand
you in other
I couldn't tell
how darkness
turned into
Diwali
---
मैं तेरी ज़िन्दगी में फुलझड़ी बनकर आना चाहता हूँ।
जो जल भी जाऊँ, कल ख़ाक भी हो जाऊँ
तेरे चेहरे पर एक मुस्कान छोड़ जाना चाहता हूँ।
---
"Kya laaya mere liye Diwali pe?"
She always used to ask.
Was in college, basically no income,
so I used to look down and say:
"kuch nahi maa, khali haath aya hu".
She used to smile at me and say:
"Khali haath kaha,
ye gandey kapdo ka bag hai naa,
mere liye ye bhi gift hai."
And yesterday,
I came back to my rented flat full of happiness with a
'Diwali Bonus Cheque',
showed it to maa on video call and said: Maa tere liye.
Mere liye wo gandey kapdo ka bag he le aata,
par beta Diwali pe tu ghar toh aa jata. She said.
---
'दीये' हिन्दू ले गया!?
या ले गया मुसलमान!?
अमा छोड़ो आफ़ाक..
'दीवाली' है!
अब, क्या महाजन।
और क्या भाईजान।।
---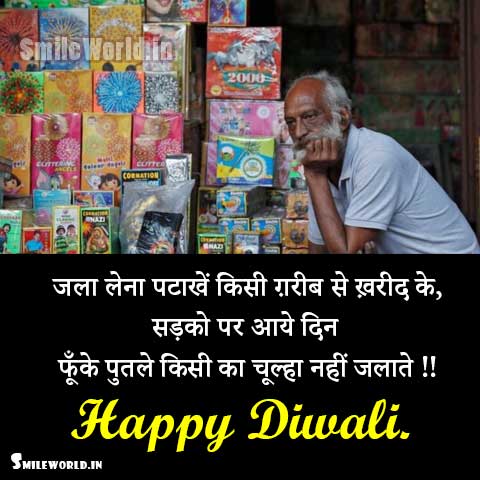 जला लेना पटाखें किसी ग़रीब से ख़रीद के,
सड़को पर आये दिन फूँके पुतले किसी का चूल्हा नहीं जलाते !!
---
सारी कायनात, धरती पे आज,
उतर आयी है इशारे से…
ये अंधेरा घना, है आसमान
दीये जलतें हैं सितारे से…
Happy Diwali
---
घर घर आए खुशियां..
गरीब अमीर सब मिल जलाएं
दीपावली की फुलझडियां..🎆