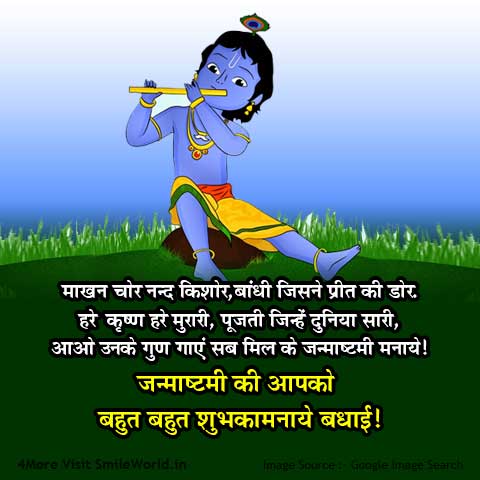 माखन चोर नन्द किशोर,बांधी जिसने प्रीत की डोर.
हरे कृष्ण हरे मुरारी,पूजती जिन्हें दुनिया सारी,
आओ उनके गुण गाएं सब मिल के जन्माष्टमी मनाये!!
!!कृष्णा जन्माष्टमी की हार्दिक शुभकामनाये!!
Makhan Chor Nand Kishor, Bandhi Jisne Preet Ki Door,
Hare Kirshna Hare Murari, Poojti Jinhe Duniya Sari,
Aao Unke Gun Gaye Sab Mil Ke Janmashtami Manaye!
Krishna Janmashtami Ki Aapko Hardik Shubhkamnaye!
May the Natkhat Nandlal always give you
Many reasons to be Happy and
You find peace in Krishna consciousness.
Happy Janmashtami !
May this Janmashtami shower on you,
Blossoms of love and peace.
May the divine grace be with you
Today and always!
Happy Janmashtami
गोकुल में हैं जिनका वास,
गोपियों संग जो करे रास,
देवकी-यशोदा जिनकी मैया,
ऐसे हमारे किशन कन्हैया
लोगो की रक्षा करने
एक उंगली पर पहाड़ उठाया
उसी कन्हैया की याद दिलाने
जन्माष्टमी का पावन दिन आया
Happy Janmashtami
पीला कपड़ा किया है धारण
मोर मुकुट भी पहना हैं
नृत्य करे संग गोपियों के
मुरली इनका गहना हैं
जय जय श्री राधे कृष्णा
I wish u HAPPY JANMASHTMI and
I pray to God for ur prosperous life
May u find all the delights of life
May ur all dreams come true
My best wishes will always be with U
I wish to all of you
A very Happy Krishna Janmashtami
Bless your family this Janmashtami
May you have all the luck,
Love and Health you wish this Janmashtami.