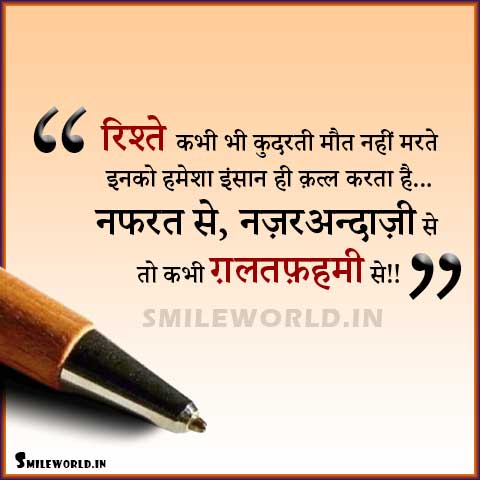 रिश्ते कभी भी कुदरती मौत नहीं मरते
इनको हमेशा इंसान ही क़त्ल करता है…
नफरत से, नज़रअन्दाज़ी से तो कभी ग़लतफ़हमी से!!
Rishte Kabhi Bhi Kudarti Maut Nahi Marte
Inko Hamesha Insaan Hi Katl Karta Hai…
Nafrat Se, Nazarandazi Se To Kabhi Galatfahmi Se!!
---
हां वही, हां कही रूककर बैठना चाहते है!!
थोड़ा सुकून, थोड़ा नम होना चाहते है!!
गलतफहमी का बोझ अब उठता ही नहीं हमसे,
तू, में, वो, सब कही खुलकर रोना चाहते है!!
---
Paalna hi h to kutte paal lo,
Wafadar hote h…..
Par kabhi galatfehmi mat paalo,
Rista tutane ke zimmedar hote h……
---
रिश्ते निभाना सीखो,
तोड़ने तो हर किसी को आते हैं।
Rishte Nibhana Sikho,
Todne To Har Kisi Ko Aate Hain!
---
समय बितता गया रिश्तो की डोर को सुलझाने में
कभी एक दूसरे को मनाने में
तो कभी एक दूसरे को समझाने में।
---
आओ संदूक में छुपे पुराने किस्से फिर निकाले,
बरसों से जमी ज़िद की धूल हम हटा लें,
फटे पुराने रिश्तों को, पिघलते प्यार की गोंद से चिपका लें,
आओ ख़फ़ा हो गए चेहरों को एक दूसरे की ओर मोड़ लें,
आओ एक मकान नया बनाए, एक आसमान फिर बनाए।
---
मित्र मेरे क्यों न सम्मुख मेरे
क्यों प्रीत कही और तुम लगा चले
अब नयन तेरे कही और लड़े
क्यों हमसे रिश्तें न निभा सके
होठों में अमृत और दिल में विष भरे
अब बता किसका साथ छोड़ने फिर चले
ओ ! मित्र मेरे क्यों न समुख मेरे ।