Get Very True Quotes and Status on Cheat / Dhoka/ Cheating / in Love / Pyar in Hindi With Images You Can Download HD Images , Cheat Quotes in Hindi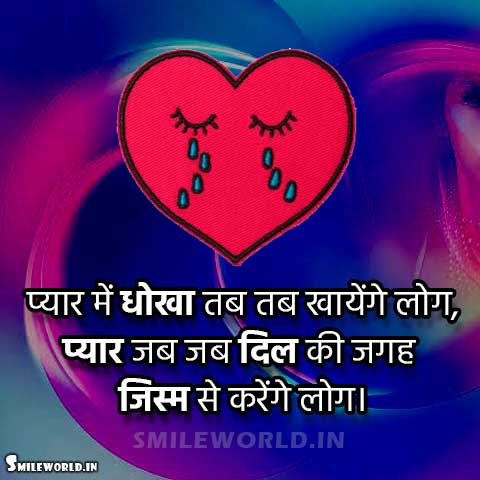 प्यार में धोखा तब तब खायेंगे लोग,
प्यार जब जब दिल की जगह जिस्म से करेंगे लोग।
Pyar Mein Dhokha Tab Tab Khayenge Log,
Pyar Jab Jab Dil Ki Jagah Jism Se Karenge Log!
---
तुने भी वही किया जो सब करते हैं,
पास आया..
सपना दिखाया..
अपना बनाया..
और फिर बिना कसुर बीच रास्ते में ही छोड़ गए ।
❤💔❤
---
Ek gahrai vali baat
Pahle hum jab apne partner ko importance dete hai
Time dete hai 'pyar dete hai
Uske baad bhi vo apko importance naa de
Or usi waqt aapko koi or importance de 'time de 'pyar de
Or jab hame vo acha lagne lage
Tab bola jata hai bandi ne cheat kar diya ' dhoka de diya
Agar itna pyar tha to pahle kadar kyu nahi ki
The_complicated_chapter
---
अब तुझे फिर से अपनाना ना-मुमकिन है! ❤💔❤

---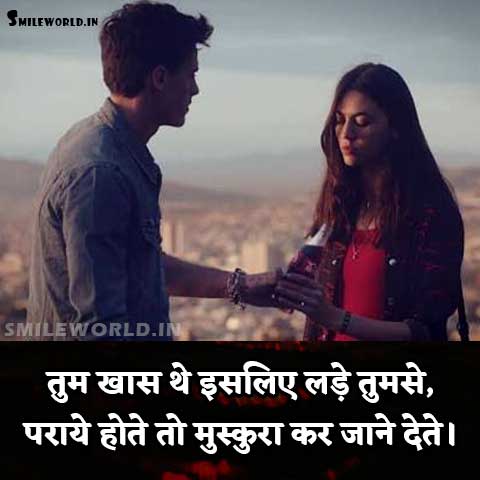 तुम खास थे इसलिए लड़े तुमसे,
पराये होते तो मुस्कुरा कर जाने देते।
Tum Khas The Isliye Lade Tumse,
Paraye Hote To Muskura Kar Jane Dete
---
Dhoka wahi deta hai
Jo khud dhoke se paida hua ho 😉
---
एक गलती की थी मैंने, आज उसी की सजा पाई थी,
उसके यार ने ही सही, उसकी असलियत बताई थी,
वो दिखती है अब किसी ओर के साथ,
ये बात तुमसे नहीं, गैरों ने मुझे बताई थी !!
---
ऐ खुदा तू ईश्क ना करना, वरना बड़ा पछताएगा।
हम तो मर के तेरे पास आ जाते हैं,तू कहां जाएगा।
---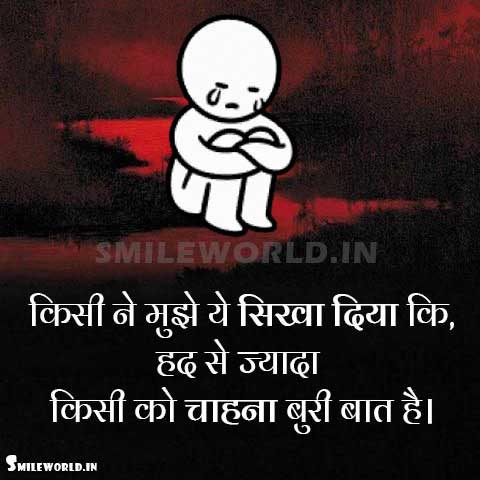 किसी ने मुझे ये सिखा दिया कि,
हद से ज्याद किसी को चाहना बुरी बात है ।
Kisi Ne Mujhe Ye Sikha Diya Ki,
Had Se Jyada Kisi Ko Chahna Buri Baat Hai!
---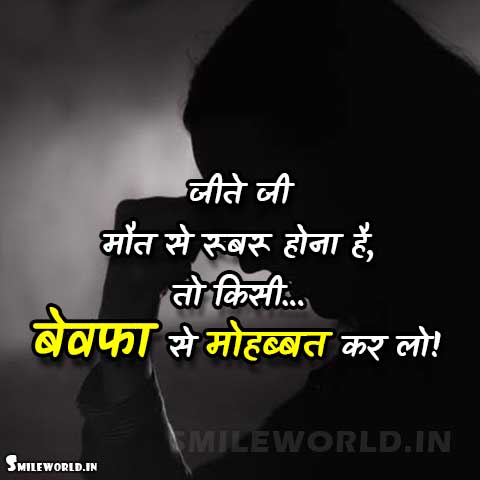 जीते जी मौत से रूबरू होना है
तो किसी बेवफा से मोहब्बत कर लो
Jeete Ji Maut Se Rubaru Hona Hai,
To Kisi Bewafa Se Mohabbat Kar Lo!
---
इश्क किया था, अब चीखें भी गाएंगे,
तेरी बेवफाई का जिक्र ना उठे,
हम आँसू लेकर शहर मे मुस्कुराएंगे,
❤💔❤
---
दिवारों के पीछे क्या किरदार हूँ मै?
यह राज़ मेरे आंगन तक को नहीं पता है,
तुम बस इतना समझ लो इश्क मे बरबाद हो गया,
उसका नाम क्या था यह किसी और दिन बताएंगे,
---
कोई था क्या नशा तेरी आँखों के बराबर?
कोई होगा क्या नशा तेरे जाने के बाद?
सब ठीक तो था, बेवफाई करनी क्या जरुरी थी?
छोडिए अब उनका जिक्र, हम फिर कोई मयखाना पी जाएंगे ।।