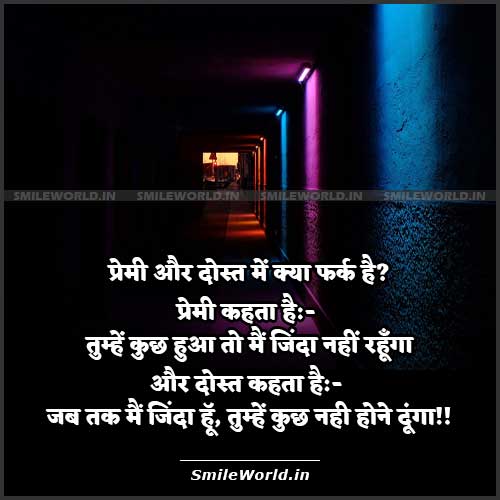 प्रेमी और दोस्त में क्या फर्क है?
प्रेमी कहता है:– तुम्हें कुछ हुआ तो मैं जिंदा नहीं रहूॅंगा
और दोस्त कहता है:- जब तक मैं जिंदा हॅू, तुम्हें कुछ नही होने दूंगा!!
Premi Aur Dost Main Kya Farq Hai?
Premi Kehta Hai- Tumhe Kuch Hua To Mein Zinda Nahi Rahuga!
Aur Dost Kahta Hai- Jab Tak Mein Zinda Hun, Tumhe Kuch Nahi Hone Dunga!!
---
कॉफी में दूध डाले या दूध में कॉफी
रंग आया न स्वाद जाने क्या बाकी
याद आयी मित्र की चीनी के साथ ही
अच्छी बनी फिर कॉफी भी काफी 😊
---
Kabhi kar gye the woh,
wada humse Dosti nibhane ka,
Aur aaj wohi kisi aur ke liye,
Humse mukh mode firte hain,
---
कहतें है, कुछ दोस्त दिलों में घर कर जातें है,
अब समझ आ रहा दिल खाली घर सा क्यों हो गया है।।
---
In Life friends are extremely important,
life is nothing without friends,
but who said that those friends can only be human,
it can be anything .
---
कभी कभी कुछ दोस्त दिल बहुत दुखाते हैं।
दोस्त भी कहते है, नीचा भी दिखाते हैं।😣
---
Kahte hai vo tu bus uske bare main likhta hai
Yaar ke bare main kabhi nahin,
Kya karoon.
Uska vajood hee mere shabdon main hai,
Yaar ki tarah meri zindgi main nahin,
---
मुझपे यकीन करने से पहले खुद पे यकीन कर लो….
मैं अगर लायक नहीं होता
तो तुम मुझसे दोस्ती ही नहीं करते।
---
हां, खिलाड़ी थे सभी यहां।
किसी ने मेरे साथ खेला तो किसी ने मेरे दिल के साथ।
पर सच कहूं मेरे दोस्त… खेला चाहे जिसने जिसके साथ हो,
उनके साथ खेलकर हमें भी बहुत मजा आया।
---
Tumlog pyar ki bat karte Ho….
Are yaar humne to dosti Main vi dhoka khaya hay… ✌🙏💔