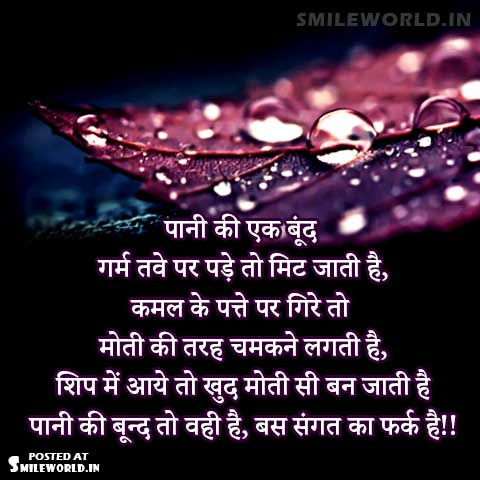 पानी की एक बूंद गर्म तवे पर पड़े तो मिट जाती है,
कमल के पत्ते पर गिरे तो मोती की तरह चमकने लगती है,
शिप में आये तो खुद मोती सी बन जाती है
पानी की बून्द तो वही है, बस संगत का फर्क है!!
Pani Ki Ek Bund Garam Tawe Par Pade To Mit Jati Hai,
Kamal Ke Patte Par Gire To Moti Ki Tarah Chamakne Lagti Hai,
Ship Mein Aaye To Khud Moti Si Ban Jati Hai
Pani Ki Bund To Wahi Hai, Bas Sangat Ka Fark Hai!!
---
उस एक मंज़िल की तलाश में हूँ,
जहाँ से कोई कारवां शुरू होता हो…!
---
जहाँ balance बनाना था,
तू account इकट्ठे करता रह गया।
---
कहने को स्त्री कोमल है और पुरुष मजबूत..
पर एक स्त्री, पुरुष के भावुक पक्ष से और पुरुष,
स्त्री के मजबूत पक्ष से सबसे अधिक आकर्षित होते हैं..!
---
कितना कुछ बोल लोगे
कितना कुछ जूठ मुठ का तारीफे बूनोगे
जब प्यार मैं हो तोह सदियों की बात करोगे
सच तोह ये है जितना प्यार करोगे
उतनी ही बेरहमी से जाएगी वो ।
वक़्त बीते तोह ज़ख्म पुराना हुआ
पर क्या करे जब उसका नाम भी साथ ना चोरे ।।
आज की बात बस इतना है
वो होती तोह हम भी जी लेते
आज कमिया उसकी इतनी है
वो होती तोह उसके लिए हम भी मर लेते ।।
---
कौन बदन से आगे देखे औरत को
सब की आँखें गिरवी हैं इस नगरी में