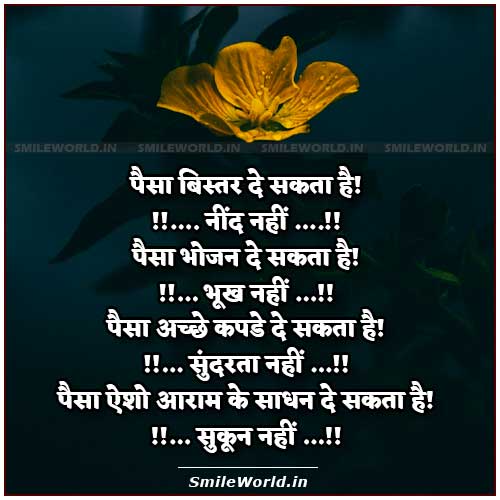 पैसा बिस्तर दे सकता है…!!
!!….नींद नहीं….!!
पैसा भोजन दे सकता है…!!
!!…भूख नहीं…!!
पैसा अच्छे कपडे दे सकता है…!!
!!…सुंदरता नहीं…!!
पैसा ऐशो आराम के साधन दे सकता है..!!
!!…सुकून नहीं…!!
Paisa Bistar De Sakta Hai Par Need Nahi
Paisa Bhojan De Sakta Hai par Bhokh Nahi
Paisa Acche Kapde De Sakta Hai Par Sundarta Nahi
Paisa Aiseo Aram Ke Sadhan De Sakta Hai Par Sukoon Nahi!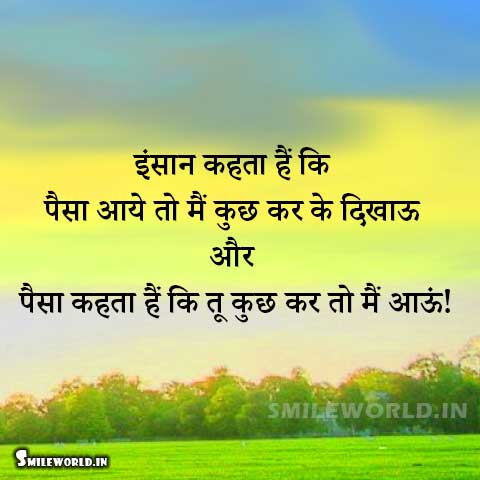 इंसान कहता हैं कि
पैसा आये तो मैं कुछ कर के दिखाऊ
और पैसा कहता हैं कि तू कुछ कर तो मैं आऊं!
Insaan Kahta Hai Ki…
Paisa Aaye To Mein Kuch Kar Ke Dikhau,
Aur Paisa Kehta hai Ki Tu Kuch Kar To Mein Aau!
---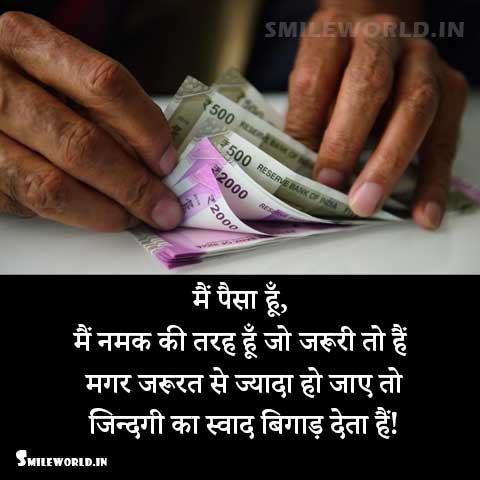 मैं पैसा हूँ,
मैं नमक की तरह हूँ जो जरूरी तो हैं
मगर जरूरत से ज्यादा हो जाए तो
जिन्दगी का स्वाद बिगाड़ देता हैं!
Mein Paisa Hun,
Mein Namak Ki Tarah Hun Jo Jaruri To Hai,
Magar Jarurt Se Jyda Ho Jaye To,
Zindagi Ka Suwad Bigad Deta Hai!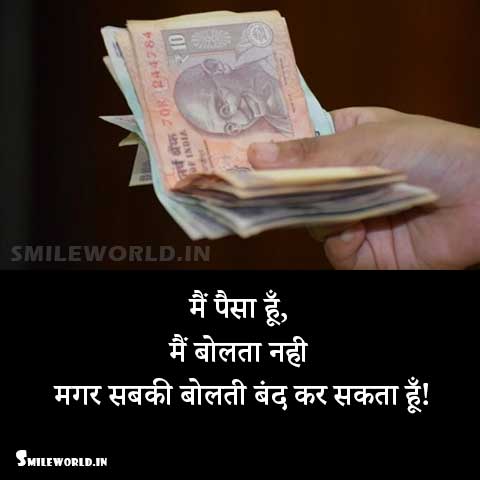 मैं पैसा हूँ,
मैं बोलता नही
मगर सबकी बोलती बंद कर सकता हूँ!
Mein Paisa Hun,
Mein Boolta Nahi Magar Sabki Bolti Band Kar Sakta Hun!