Hindu Muslim Ekta Republic Day Gantantra Diwas Wishes, Quotes, Thoughts Greetings in Hindi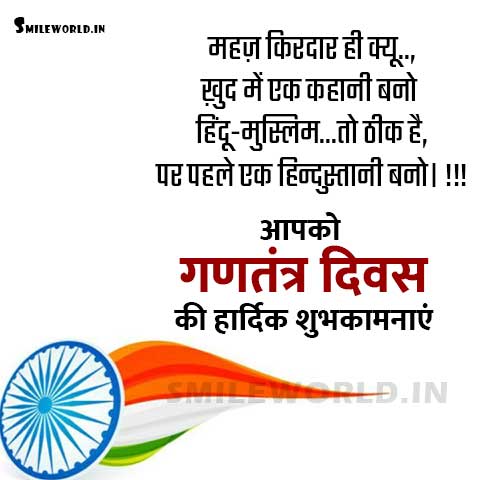 महज़ किरदार ही क्यू..,
ख़ुद में एक कहानी बनो
हिंदू-मुस्लिम…तो ठीक है,
पर पहले एक हिन्दुस्तानी बनो। !!!
---
नए भारत में गणतंत्र के साथ,
प्रजातंत्र का भी होना अति आवश्यक है।
प्रजातंत्र का अर्थ मैं यह समझती हूं कि….
इसमें सर्वाधिक उपेक्षित से लेकर
सुविधा संपन्न व्यक्ति तक
सभी को आगे बढ़ने का समान अवसर मिले
सभी को आगे बढ़ना है और नया भारत बनाना है।।
---
ये भारत वतन हैं हमारा ,
लगता हैं मुझें सबसे प्यारा,
चाहे मेरी जान चली जाए,
रहेगा साथ जन्मो-जन्मो तक हमारा,
क्योकी ये भारत वतन हैं हमारा ।
---
Independence Day poem
Today is our independence Day
We remember our freedom fighters on this day
Like Bhagat Singh, Aajad, Bose and Sukhdev
They made Britishers run away
Thousands of people sacrificed their lives
So that our Bharat mata could revive
We should spread love and deligh
That's how we can pay for their sacrifice…
Jai Hind
---
आसमां पर घर बनाऊँ मेरा कोई मकसद नहीं,
मेरे वतन की जमीं ही मेरी जन्नत है।
---
भ्रष्टों को भी हटाना है
उनकी अब बारी गई
अब खुद कदम बढ़ाना है
दुश्मनों को भी अब मार कर गिराना है
नौजवानों को ही अब देश को चलाना है
हाथ से अब हमें हाथ को मिलाना है
साथ मिलकर अब हमें देश को सजाना है 🇮🇳
Happy Gantantra Diwas
---
My love,
My nation is my pride.
For me my nation is,
My mother and my guide.
I can do anything for my nation,
And it is my one and only vision.
Serving the nation is my aim,
Equality for all is my only claim.
My nation is not where i live,
She teaches everyone to trust and forgive.
I am proud to be an Indian by heart,
For you every other thing is apart.
---
जब, तक, सूरज, चाँद, रहेगा,
विश्व के मानचित्र पै, भारत तेरा नाम रहेगा ।
Happy Republic Day
---
A republic nation is not
the one where you have to
fight for equality.
It is the one where your
differences are celebrated.
---
समस्त भारतवासियों को
गणतंत्र दिवस की हार्दिक शुभकामनाएँ।
यह पर्व है लोकतंत्र का,
यह पर्व है गणतंत्र का,
यह पर्व है भारत का।
आइए,
गणतंत्र दिवस पर हम सब मिलकर
एक नए भारत के निर्माण का संकल्प करें।
---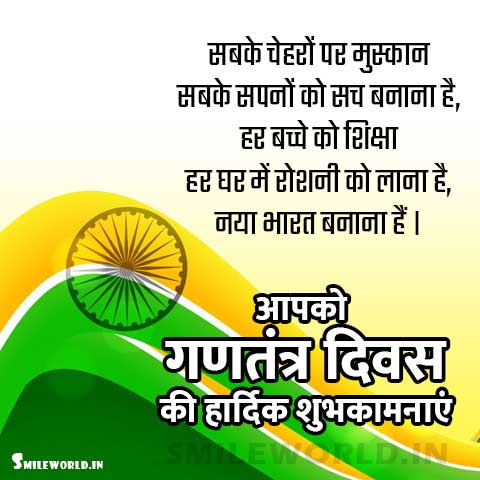 सबके चेहरों पर मुस्कान
सबके सपनों को सच बनाना है,
हर बच्चे को शिक्षा
हर घर में रोशनी को लाना है,
नया भारत बनाना हैं ।
---
घुटने टेके अंग्रेज़ो ने, अंग्रेज़ो का पतन हुआ।
स्वतंत्र हुआ जब हिंदुस्तान, संविधान का गठन हुआ।।