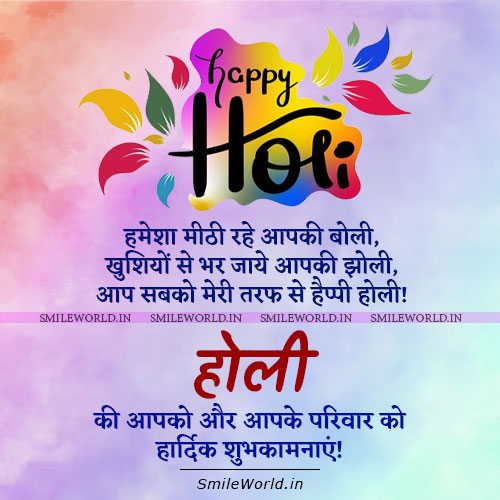 बसंत रितु की है बहार
चली पिचकारी उड़ा है गुलाल
रंग बरसे हैं नीले हरे लाल
मुबारक हो आपको होली का त्यौहार!
Holi aayi re…
and here's me to say…
may joy & laughter
brighten your every day.
Yehi hai my wish… dil se!
लाल गुलाबी रंग है झूम रहा संसार
सूरज की किरण खुशियों की बहार
चाँद की चांदनी अपनों का प्यार
शुभ हो आपको होली का त्यौहार
Happy Holi
Holi Ka Gulal Ho
Rango Ki Bahar Ho
Gujhia Ki Mithas Ho
Ek Baat Khas Ho
Sab Ke Dil Main Pyar Ho
Yahi Apna Tyohaar Ho
Wish U very Happy Holi
हवाओ के साथ अरमान भेजा है,
नेटवर्क के ज़रिये पैगाम भेजा है,
वो हम हैं जिसने सबसे पहले,
होली का राम-राम भेजा।
Swarglok se INDRA
vaikunth Lok se VISHNU
Kailash se MAHADEV
Brahma Lok se BRAHMA
Aur Prithivilok se Svayam
Hum Aap Ko Happy Holi Ki Badhayi Dete Hai.
रंगों की वर्षा, गुलाल की फुहार
सूरज की किरणें, खुशियों की बौछार
चन्दन की खुशबु, अपनों का प्यार
मुबारक हो आपको होली का त्यौहार
Bhar bhar ke jaam pilaao,
chang aur mridang bajao,
gile shikve bhul jaao,
man galiyaara chaheke,
aisi satrangi chadar faihrao,
aao sab milkar holi manao!
मथुरा की खुशबु, गोकुल का हार,
वृंदावन की सुगंध, बरसाने की फुहार,
राधा की उम्मीद, कान्हा का प्यार,
मुबारक हो आपको होली का त्यौहार.
Holi Wishes Shayari Messages in Hindi
गुलाल का रंग, गुब्बारों की मार,
सूरज की किरणे,खुशियों की बहार,
चाँद की चांदनी, अपनों का प्यार,
मुबारक हो आपको रंगों का त्यौहार.
सोचा किसी को याद करें
अपने किसी ख़ास को याद करें
किया जो हमने फैसला होली मुबारक कहने का
दिल ने कहा क्यूँ न आपसे शुरुआत करें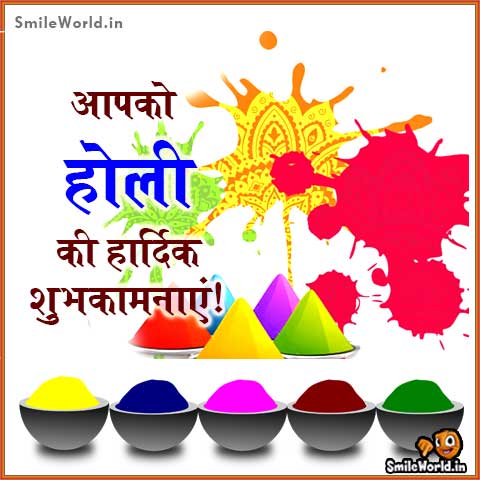 पिचकारी की धार, गुलाल की बौछार,
अपनों का प्यार,यही है यारों होली का त्यौहार.
हैप्पी होली!!!!
Apki Jeevan main
hamesh khusiyon ke rang barse,
Happy Colorful HOLI!!!!!!!…….. holi wishes in hindi
राधा का रंग और कान्हा की पिचकारी
प्यार के रंग से रंग दो दुनिया सारी
यह रंग ना जाने कोई जात ना कोई बोली
मुबारक हो आपको रंगों भारी होली!
वो पानी की बौछार वो गुलाल की फुहार
वो घरों से निकलना वो गलियों में घूमना
वो दोस्तों की धूम वो गोविन्दाओं का हुजूम
हो जाओ ready Holi is coming soon
WISHING U A VERY HAPPY HOLI…
ये रंगो का त्यौहार आया है,
साथ अपने खुशियाँ लाया है,
हमसे पहले कोई रंग न दे आपको,
इसलिए शुभकामनाओं का रंग,
हमने सबसे पहले भिजवाया है…
"हैप्पी होली"
Holi Wishes Latest SMS in English
Colors are brightening up the scene,
the water sprinkling up high,
the holi is almost here… so, enjoy!!
Happy Holi ! …….
Red 4 luv. Yellow 4 freshness.
Green 4 prosperity. Blue 4 depth.
Orange 4 Brightness. Pink 4 fun.
May these colours bring their meaning
in ur life……..holi wishes
Moon is Full,
Colours are Full,
on this spoke Moonlight Cool,
may ur Life be Beautiful,
all Holy wishes on Holi get soon Full!
holi wishes sms
May God gift you all the colors of life,
colors of joy, colors of happiness,
colors of friendship, colors of love
and all other colors you want to paint in your life.
Happy Holi…………..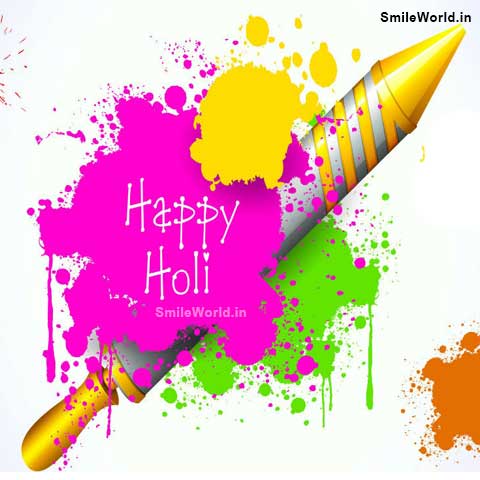 Be ready,
you can not skip being coloured by me this time.
Don't just lock your self up on the day and Holi hard.
It comes once in a year and make the most of it.
So please, play with me.
I wish you my hearty best wishes for the festival.
May your life be filled with
happiness and may you be
successful in whatever you do.
Wishing you a very happy Holi.