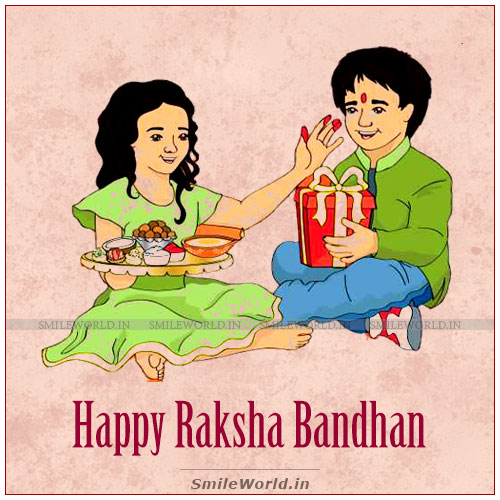 Roli hui
Rakhi hui
Aur hui mithayi
Ab to mera uphaar de do
Mere pyaare bhai!
Happy Raksha Bandhan!
Dear Brother,
while tying this Rakhi, I pray to God for Ur peace,
happiness and prosperity.
A warm and loving person like u deserves the best of life.
Happy Rakhi..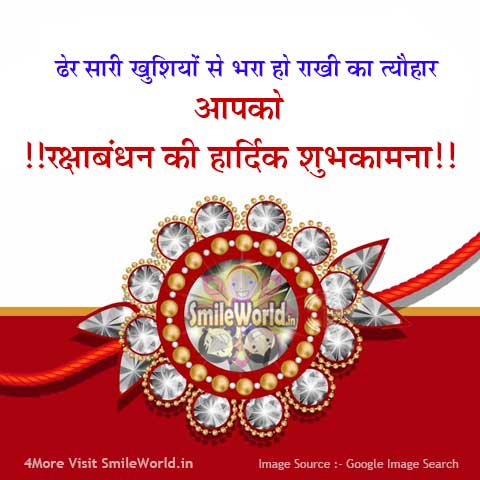 Sometimes being a
brother is even better than being
a superhero.& this day is RAKHI.
Happy Raksha Bandhan Sis.
"I think people that have a brother or sister ,
don't realize how lucky they ar.
Sure, they fight a lot,
but to know that there's always somebody there,
somebody that's family."
Happy Rakhi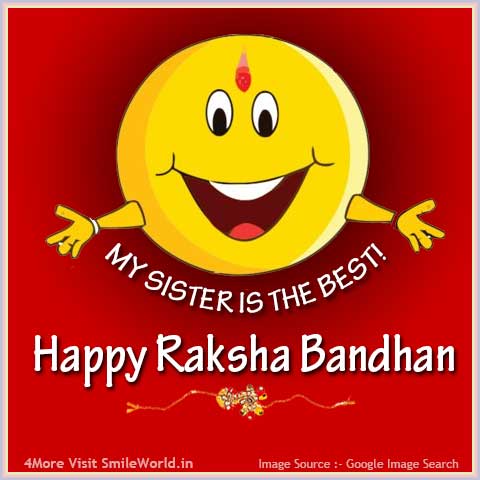 A brother is a friend God gave in gift;
a friend is a brother ur heart chose for u.
Happy Raksha Bandhan..
"Sister is someone who is caring and
sharing and She can understand pain
which is not visible to anyone.
I love you sister." Happy Rakhi… Best SMS for Rakhi in Hindi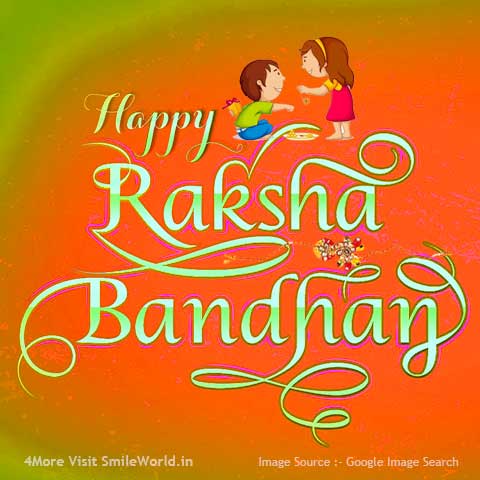 "Brothers and sisters are as close as hands and feet."
Rakhi is the combination of five meaningful words.
R: rock strong relationship
A: acceptance all along
K: kindness to the core
H: heartwarming presence
I: idealistic relationship,
Happy Raksha Bandhan.
Happy Raksha Bandhan Day..
Brothers are like streetlights along the road,
they don't make any distance but
they light up the path and make the walk worthwhile.
Love u Bro. —– Happy Raksha Bandhan Wishes in Hindi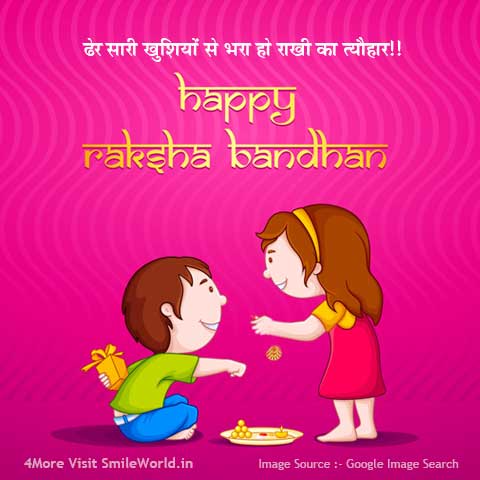 On this Rakhi, let's bring back the lively spirit of childhood,
play pranks with each other and become that wacky siblings we were always.
Happy Raksha Bandhan.
"Sisters is probably the most competitive relationship within the family,
but once sisters are grown, it becomes the strongest relationship."
To my sweet angel like sister,
May god bless U with loads of happiness,
health and wealth.
Happy Rakhi Bandhan Quotes in English!
"Har ladki ko aapka inteezar hai
Har ladki aapke liye bekaraar hai
Har ladki ko aapki aarjoo hai
Yeh aapka koi kamaal nahi
Ajj'Rakhi' ka tyohar hai!" ————— Rakhi Wishes in Hindi SMS
Dear Brother,
while tying this Rakhi,
I pray to God for your peace,
happiness and prosperity.
A warm and loving person like you deserves the best of life.
Happy Raksha Bandhan. —- Latest Wishes for Facebook and Whatsapp Status