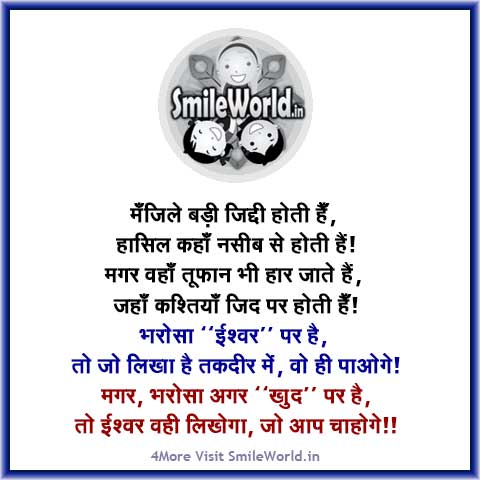 मँजिले बड़ी जिद्दी होती हैँ,
हासिल कहाँ नसीब से होती हैं!
मगर वहाँ तूफान भी हार जाते हैं,
जहाँ कश्तियाँ जिद पर होती हैँ!
भरोसा ''ईश्वर'' पर है,
तो जो लिखा है तकदीर में, वो ही पाओगे!
मगर, भरोसा अगर ''खुद'' पर है,
तो ईश्वर वही लिखेगा, जो आप चाहोगे!!
Mazile Badi Ziddi Hoti Hain,
Hasil Kahan Naseeb Se Hoti Hain,
Magar Wahan Toofan Bhi Har Jate Hain,
Jahan Kastiyan Zid Par Hoti Hai!!!
Bharosha " Ishwar" Par Hai,
To Jo Likha Hai Taqdeer Main Wo He Paoge!
Magar, Bharosha Agar " Khud " Par Hai,
To Ishwar Wahi Likhega, Jo Aap Chahoge!!