Download Latest Navratri Hindi Wishes, Whatsapp Status and Greeting Cards Wallpapers for Facebook and Whatsapp Share With Friends and Family Shubh Navratri Hindi Images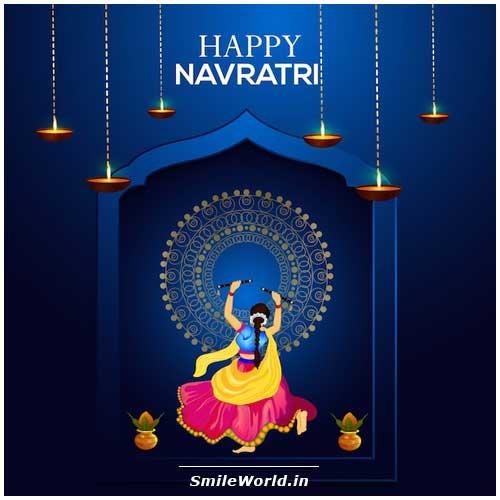 दूर की सुनती हैं माँ..
पास की सुनती हैं माँ…
माँ तो अखिर माँ हैं…
माँ तो हर मज़बूर की सुनती हैं॥
नवरात्रि की शुभकामनाएं!
माँ दुर्गा आपको अपनी 9 भुजाओं से :
बल, बुद्धि, ऐश्वर्या, सुख, स्वास्थ्य,
शान्ति, यश, निरभीखता, सम्पन्नता, प्रदान करें।
सजा दरबार है और एक ज्योति जगमगाई है,
नसीब जागेगा उन जागरण करने वालो का …
वो देखो मंदिर में मेरी माता मुस्करायी है..
जय माता दी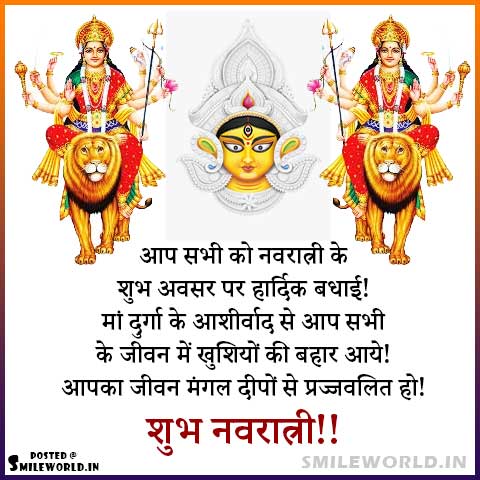 आप सभी को नवरात्री के
शुभ अवसर पर हार्दिक बधाई!
मां दुर्गा के आशीर्वाद से आप सभी
के जीवन में खुशियों की बहार आये!
आपका जीवन मंगल दीपों से प्रज्जवलित हो!
शुभ नवरात्री!!
Aap Sabhi Ko Navratri Ke Shubh Awsar
Par Hardik Badhai….
Maa Durga Ke Aashirvaad Se Aap Sabhi Ke
Jeevan Main Khushiyon Ki Bahar Aaye…
Aapka Jeevan Mangal Deepo Se Prjjwalit Ho..
Shubh Navratri !!
सारा जहां है जिसकी शरण में,
नमन है उस मां के चरण में,
हम हैं उस मां के चरणों की धूल,
आओ मिलकर मां को चढ़ाएं श्रद्धा के फूल।
-जय माता दी
ना गिन कर दिया ना तोल कर दिया,
जब भी दिया शेरोंवाली माँ ने,
दिल खोल कर दिया… जय शेरोंवाली माँ
कुम कुम भरे कदमों से आये माँ दुर्गा आपके द्वार,
सुसुख संपत्ति मिले आपको अपार,
नवरात्री की हार्दिक शुभकामनायें करें स्वीकार
– Happy Navratri –