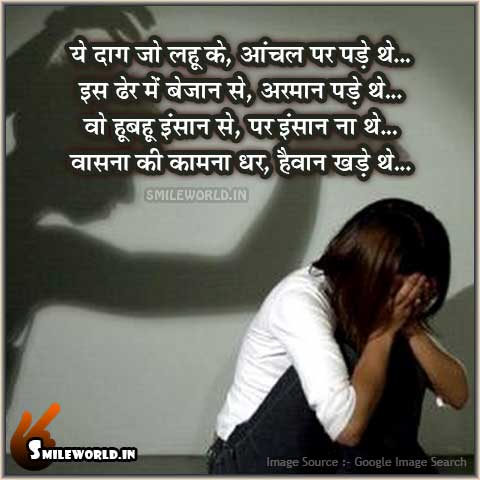 ये दाग जो लहू के, आँचल पर पड़े थे…
इस ढेर में बेजान से, अरमान पड़े थे…
वो हूबहू इंसान से, पर इंसान ना थे…
वासना की कामना धर, हैवान खड़े थे…
Ye Dag Jo Lahu Ke, Aachal Par Pade They,
Is Dher Main Bejuban Se, Armaan Pade They,
Woh Hubahu Insan Se, Par Insan Na The,
Vashna Ki Kamna Dhar, Haiwan Khade They!!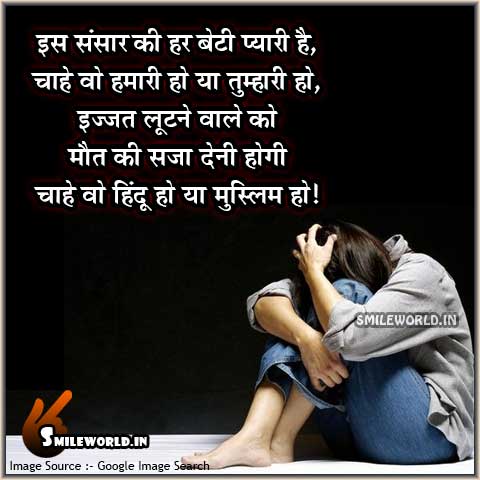 इस संसार की हर बेटी प्‍यारी है,
चाहे वो हमारी हो या तुम्‍हारी हो,
इज्‍जत लूटने वाले को
मौत की सजा देनी होगी
चाहे वो हिंदू हो या मुस्लिम हो!!
Is Sansar Ki Har Beti Pyari Hai,
Chahe Wo Hamari Ho ya Tumhari Ho,
Ijjat Lootne Wale Ko Maut Ki Saza Deni Hogi,
Chahe Wo Hindu Ho Ya Muslim Ho…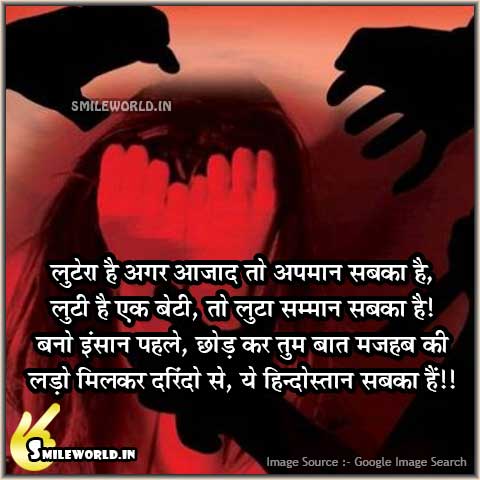 लुटेरा है अगर आज़ाद तो अपमान सबका है,
लुटी है एक बेटी, तो लुटा सम्मान सबका है!
बनो इंसान पहले छोड़ कर तुम बात मज़हब की
लड़ो मिलकर दरिंदो से, ये हिन्दोस्तान सबका हैं!!
Lootera Hai Agar Azaad To Apman Sabka Hai,
Luti Hai Ek Beti, To Loota Samman Sabka Hai,
Bano Insaan Pahele, Chhod Kar Tum Baat Mazhab Ki
Lado Milkar Darindo Se, Ye Hindostan Sabka Hai!