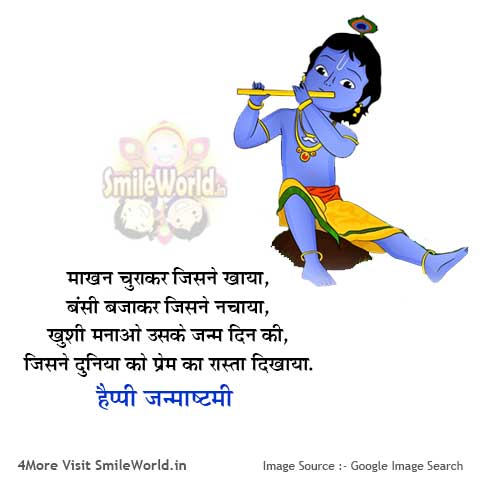 माखन चुराकर जिसने खाया,
बंसी बजाकर जिसने नचाया,
खुशी मनाओ उसके जन्म दिन की,
जिसने दुनिया को प्रेम का रास्ता दिखाया.
!! हैप्पी जन्माष्टमी !!
Makhan Churakar Jisne Khaya,
Bansi Bajakar Jisne Nachaya,
Khusi Manao Uske Janam Din Ki
Jisne Duniya Ko Pream Ka Rashta Dikhaya!
Happy Janmashtami
Janma' means birth and 'ashtami' means the eighth.
Janmashtami refers to the birth of Krishna,
Which took place on the eighth day of the
Second fortnight in the month of Sravana.
Celebrate the Birth of Krishna…!
May Lord Krisna's flute invite
The melody of love into UR life.
May Radha's love teach not only how to love
But to love eternally!!.. HAPPY JANMASHTAMI.
माखन का कटोरा, मिश्री का थाल,
मिटटी की खुशबू, बारिश की फुहार,
राधा की उम्मीद कन्हैया का प्यार,
मुबारक हो आपको "जन्माष्टमी" का त्यौहार
माखन चुराकर जिसने खाया
बंसी बजाकर जिसने नचाया,
खुशी मनाओ उसके जन्मदिन की,
जिसने दुनिया को प्रेम का पाठ दिखाया
प्रेम से कृष्णा का नाम जपो
दिल की हर इच्छा पूरी होगी
कृष्णा आराधना में इतना लीन हो जाओ
उनकी महिमा, जीवन खुशहाल कर देगी
Unke guno se jivan ko sajaye,
GITA ke vicharo ko man me basaye,
Lana hai hame KRISHNA ko aur bhi apne kareeb,
To aao apne ghar ko hi Gokul banaye..
Krishan ki mahima, krishan ka pyar,
Krishan me shradha, Krishan se sansar,
Mubarak ho apko Janmasthami ka tyohar..
SHRI KRISHAN ki kripa aap par sada bani rahe..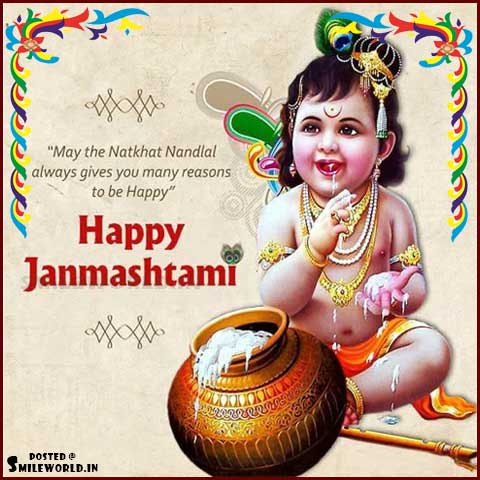 श्री कृष्ण जन्माष्टमी पर आपको
और आपके परिवार को बधाई और हार्दिक शुभकामनाएं।
नन्द के आनंद भयो,
जय कन्हैया लाल की "हाथी घोड़ा पालकी, जय कन्हैया लाल की!"
भगवान कृष्ण आपके जीवन में अनेकानेक सफलताएँ एवं अपार खुशियाँ लेकर आये।
इस अवसर पर भगवान कृष्ण से यही प्रार्थना है कि
वह, वैभव, ऐश्वर्य, उन्नति, प्रगति, आदर्श, स्वास्थ्य, प्रसिद्धि और
समृद्धि के साथ आजीवन आपको जीवन पथ पर गतिमान रखे।