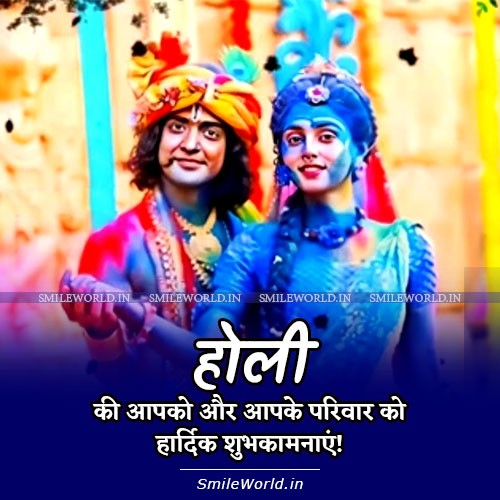 चाहे हो ये फीका या गहरा,
होली का हर रंग कुछ कहता है,
गुलाल का रंग मुझे मालूम नहीं,
पर रिश्तों का रंग प्यारा होता है…
होली मुबारक।
Khushi Ke Is Pal Mein Ye Dil Bus Muskuraye,
Har Gam Bhula Ke Pyar Bharey Sapne Sajaye
In Haseen Palon Ki Khushbu Is Dil Ko Bahut Bhaaye,
Shayad In Palon Ka Sangam He Jannat Kehlaye
Happy Holi
Aise manana Holi ka tyohar
Pichkari se barse sirf pyar.
Ye hai mauka apno se gale mitane ka
To gulal or rang lekar ho jao taiyar
HAPPY HOLI
Holi par sabhi ko sabhi rango se milkar ek rang,
apko mile jo apki khusiyon ko rangin bana de.
Happy Holi
Happy Holi English Wishes for Whatsapp and Facebook Status Update
There was some special meaning playing Holi with girls,
this is the only day when we can get close to them with some hesitation,
the wet colors dignified their bodies,
the dry colors showed their beauty in multi colors.
A true and caring relation doesn't have to speak loud,
Just a soft sms is enough to express the heartiest feelings.
Enjoy the festival of Holi with lots of fun an Blessings.
Not from my Head,
Not from my Mouth,
Not from my Body,
Not from my Brain,
I am wishing you a Happy Holi from my Heart.
May God paint d canvas of your life with
d most beautiful colors sprinkles,
Peace, Luck, Success and joy at every step…
Wish U A Very Colorful and Happy Holi.
May god gift u all the colors of life,
colors of joy, colors of happiness,
colors of friendship,
colors of love n all other colors u want to paint in your life.
Happy Holi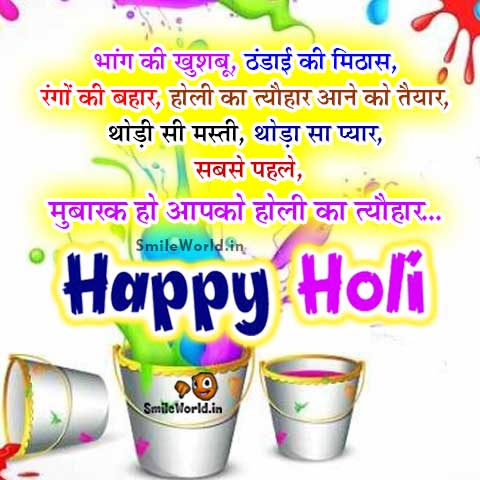 भांग की खुशबू,
ठंडाई की मिठास,
रंगों की बहार,
होली का त्यौहार आने को तैयार,
थोड़ी सी मस्ती,
थोड़ा सा प्यार,
सबसे पहले,
मुबारक हो आपको होली का त्यौहार…
Keechad, Eggs Aur Tar Coal,
Holi Pe Na Tu Gandh Ghol.
Prem Pyaar Ki Rakh Mukh Pe Boli,
Khushiyon Bhari Ho Teri Yeh Holi.
Holi Mubarak!!!!
Lamha-lamha waqt gujar jayega,
2 dino ke baad rango ka tyohaar ayega,
abhi se HOLI ki badhai le lijiye,
warna phir ye silsila aam ho jayega
HAPPY HOLI IN ADVANCE
ढ़ेंगे जब प्यारे रंग,
एक मेरी दोस्ती का रंग भी चढाना.
लगने लगेंगे तुम्हे सुहाने सारे रंग,
और मेरी दोस्ती का रंग चमकेगा हरदम तुम्हारे संग.
बोलो सररारारा…
विश यू अ वैरी मस्तिफुल एंड कलरफुल हैप्पी होली
Mission Holi..
Niklo Galiyon Me Bana Ke Toli,
Bhiga Do Aaj Har Ladki Ki Choli,
Muskura De…To Use Baahon Me Bhar Lo,
Warna Nikal Lo Keh Ke.
Happy Holi. 🙂
मन में लेकर आता है खुशियों की नई बहार,
सबसे प्यारा है होली के रंगों का त्यौहार,
सबके दिल से भाव दुश्मनी का कर देता ये दूर,
सबको सिखलाता है एक दूजे से करना प्यार…
Ye jo rango ka tyohar hai,
Is din na hue laal pile to zindagi bekar hai,
Rang lagana to itna pakka lagana,
Jitna pakka tu mera yaar hai.
Happy Holi