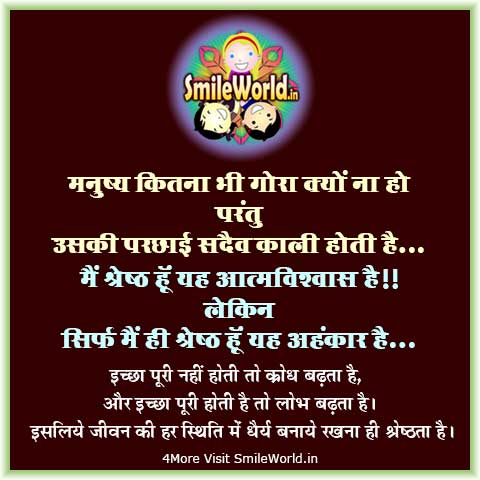 "मनुष्य कितना भी गोरा क्यों ना हो
परंतु उसकी परछाई सदैव काली होती है…
"मैं श्रेष्ठ हूँ"  यह आत्मविश्वास है!!
लेकिन "सिर्फ मैं ही श्रेष्ठ हूँ"  यह अहंकार है…"
"इच्छा पूरी नहीं होती तो क्रोध बढ़ता है, और इच्छा पूरी होती है तो लोभ बढ़ता है। इसलिये जीवन की हर स्थिति में धैर्य बनाये रखना ही श्रेष्ठता है।"
Manushya Kitna Bhi Gora Kyo Na Ho
Parantu Uski Parchai Sadaiv Kali He Hoti Hai!
Mein Shresta Hun, Yah Atmvishwas Hai!
Lekin Sirf Mein He Shresta Hun Yah Ahankar Hai!
"Iccha Puri Nahi Hoti To Krodh Badhta Hai,
Aur Iccha Puri Hoti Hai To Lobh Badhta Hai!
Isliye Jeevan Ki Har Sthiti Mein Driya Banaye Rakhna He Sreshta Hai!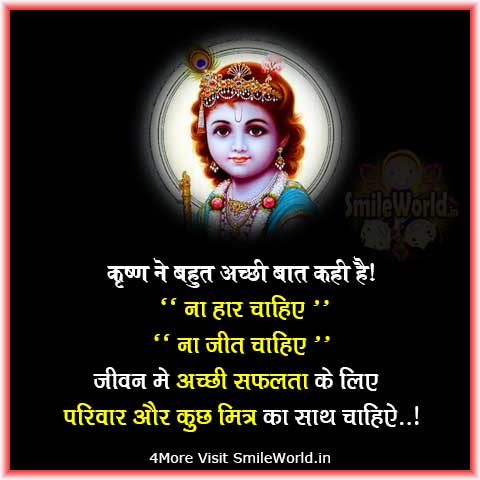 कृष्‍ण ने बहुत अच्छी बात कही है!
 '' ना हार चाहिए ''
'' ना जीत चाहिए ''
जीवन मे अच्छी सफलता के लिए
परिवार और कुछ मित्र का साथ चाहिऐ..!
Krishna Ne Bahut Acchi Baat Kahi Hai
"Na Har Chahiye"
" Na Jeet Chahiye"
Jeevan Main Acchi Safalta Ke Liye
Parivar Aur Kuch Mitron Ka Sath Chahiye!