Best Collection of Krishna Janmashtami / Krishna Janmotsav Wishes in Hindi for Facebook and Whatsapp Status Update, You Can Download HD Images of Happy Krishna Janmashtami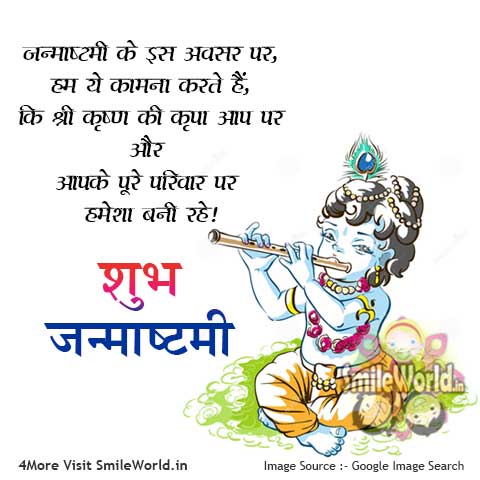 जन्‍माष्‍टमी के इस अवसर पर,
हम ये कामना करते हैं,
कि श्री कृष्‍ण की कृपा आप पर
और आपके पूरे परिवार पर हमेशा बनी रहे।
शुभ जन्माष्टमी !!
श्री कृष्ण के कदम आपके घर आये,
आप खुशियो के दीप जलाये,
परेशानी आपसे आँखे चुराए,
कृष्ण जन्मोत्सव की आपको शुभकामनायें .
हैप्पी जन्माष्टमी ।।
कृष्णा तेरी गलियों का जो आनंद है,
वो दुनिया के किसी कोने में नहीं ।
जो मजा तेरी वृंदावन की रज में है,
मैंने पाया किसी बिछौने में नहीं ।।
जय श्री कृष्णा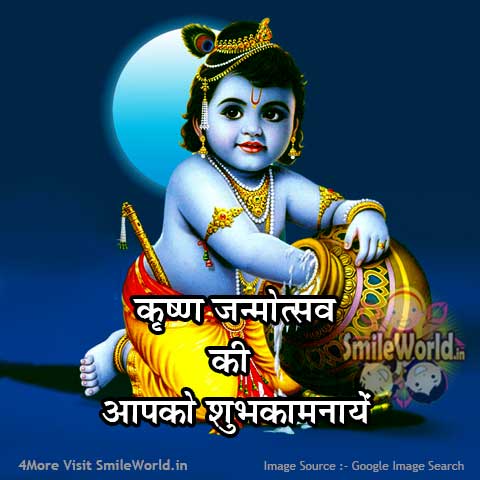 पवित्र पर्व आज का दिन हैं
लिया जनम हमारे कृष्णा ने
जिसके लिए सर्वत्र ब्रह्माण्ड प्रसन्न हैं
जय किशन, जय किशन
जय घोष से विश्व धन्य हैं
जय श्री कृष्णा!!
जन्माष्टमी के इस अवसर पर,
हम ये कामना करते हैं
कि श्री कृष्ण की कृपा आप पर,
और आपके पूरे परिवार पर हमेशा बनी रहे।
शुभ जन्मआष्टमी!
गाय का माखन, यशोधा का दुलार,
ब्रह्माण्ड के सितारे कन्हैया का श्रृंगार।
सावन की बारिश और भादों की बहार,
नन्द के लाला को हमारा बार-बार नमस्कार।
Gokul me hai jinka waas,
Gopiyo sang jo karey raas,
Devki-Yashoda jinki maiya,
aise hamare kishan kanhaiya.
May Lord Krishna fulfill all your wishes.
Happy Janamasthami!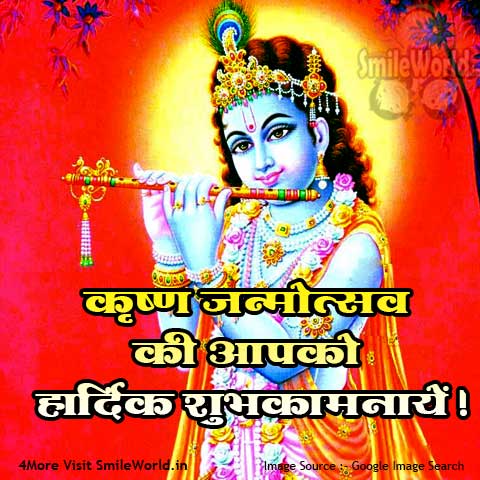 प्रेम से श्री कृष्ण का नाम जपो,
दिल की हर इच्छा पूरी होगी,
कृष्ण आराधना में लीन हो जाओ,
उनकी महिमा जीवन खुशहाल कर देगी।
माखन चुराकर जिसने खाया,
बंसी बजाकर जिसने नचाया,
खुशी मनाओ उसके जन्म दिन की,
जिसने दुनिया को प्रेम का रास्ता दिखाया.
हैप्पी जन्माष्टमी ।।
Hota hai pyar kya duniya ko jisne bataya,
Dil ke rishton ko jisne prem se sajaya,
Aaj us pyar ke dewta ka Birthday hai.
Happy Janmashtami.
Radha ki bhakti,
murli ki mithas,
Makhan ka swaad aur gopiyo ka raas,
Sab milke banta hai janmastmi ka din khaas..
Happy Krishna Janmastmi!!