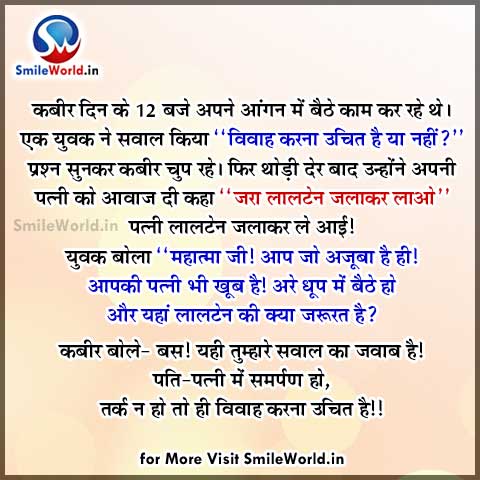 कबीर दिन के 12 बजे अपने आंगन में बैठे काम कर रहे थे।
एक युवक ने सवाल किया ''विवाह करना उचित है या नहीं?''
प्रश्न सुनकर कबीर चुप रहे!
फिर थोड़ी देर बाद उन्होंने अपनी पत्नी को आवाज दी कहा:-
''जरा लालटेन जलाकर लाओ''
पत्नी लालटेन जलाकर ले आई!
युवक बोला ''महात्मा जी! आप जो अजूबा है ही!
आपकी पत्नी भी खूब है! अरे धूप में बैठे हो
और यहां लालटेन की क्या जरूरत है?
कबीर बोले- बस! यही तुम्हारे सवाल का जवाब है!
पति-पत्नी में समर्पण हो,  तर्क न हो तो ही विवाह करना उचित है!!
Kabir Din Ke 12 Baje Apne Angan Main Baithe Kaam Kar Rahe They
Ek Yuvak Ne Sawal Kiya "Vivah Karna Uchit Hai Ya Nahi?"
Sawal Sunkar Kabir Chup Rahe! Phir Thodi Der Bad Unhone Apni
Patni Ko Awaj Di Aur Kaha " Jara Lalten Jalakar Laao"
Patni Lalten Jalakar Le Aai!
Yuvak Boola " Mahatma Ji! Aap To Ajuba Hai He!
Par Aapki Patni Bhi Khoob Hai! Are! Dhup Main Baithe Ho
Aur Yahan Lalten Ki Kya Jarurt Hai?
Kabir Boole:- Bas! Yahi Tumhare Sawal Ka Jawab Hai
Pati-Patni Main Samarpan Ho, Tark Na Ho To He
Vivah Karna Uchit Hai!!