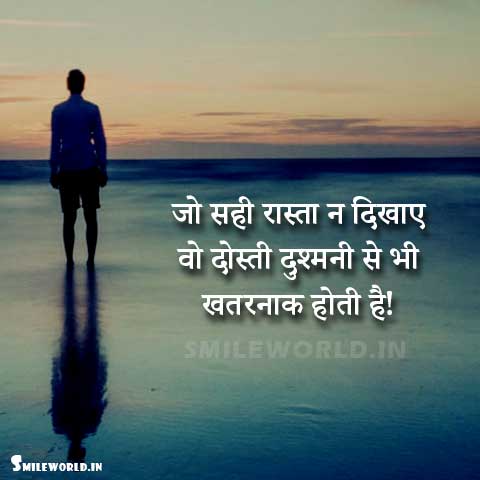 जो सही रास्ता न दिखाए
वो दोस्ती दुश्मनी से भी
खतरनाक होती है!
Jo Sahi Rasta Na Dikhaye
Wo Dosti Dusmani Se Bhi
Khatarnak Hai… ——- Anmol Vachan in Hindi
---
नामी गिरामी चाहें जो हो आप
क्या फ़र्क पड़ता, कौन हो आप..?
फ़र्क पड़ता, गर दोस्ती में हो शंका
पर दिल से कहते, सच्चे दोस्त हो आप…!
कुछ दोस्तों को वक़्त के साथ बदलते देखा है।
ओर कुछ के साथ वक़्त को बदलते देखा है ❤️
---
FriendShip" ke "Ship" me sawaar hu
Safar to yarana hoga hi
Aur Manzil Gharane se kam nahi.
---
प्यारा-सा गाँव, टेढ़ी-मेढी पगडंडी हो और एक छोटा-सा ख्वाब हो….
भले ही झाड़ीदार,काँटेदार मेरा मंजिल हो, पर साथ में मेरे दोस्त-सा गुलाब हो।
---
Na jane woh dost kaha gaye
jo aksar yeh kahete the k milte rahenge
---
तुम इस शहर के रिवायत से
अनजान हो दोस्त
यहाँ याद रहने के लिए
याद दिलाना पड़ता है !
---
कोई पूछे अगर हमारी दोस्ती के बारे मे,
बोल देना, पहले जैसा नहीं रहा!!
---
Dard Kya Hota hey tab pata chala jata jab ek Dost
mere Dil ki baat puchhane laga…
Kyunki Kisine kaha hey SACHHA DOST Toh
tumhare hasi Ke Pichhe ka Dukh bhi pehchan lete hey
Meri Toh sirf baat thi
Ya Toh Meri Dosti mai kuch Kami reh gayi
ya Fir maine Galat insaan ko dost bana liya..