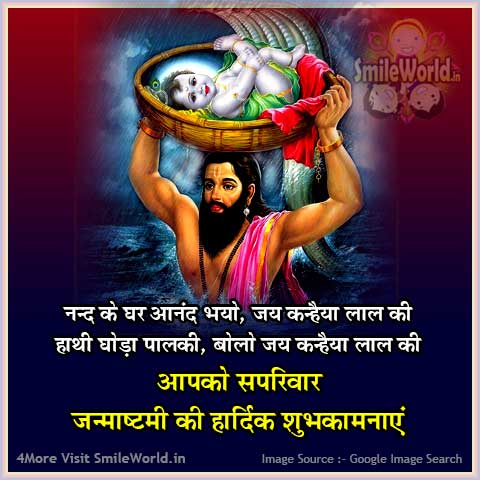 नन्‍द के घर आनंद भयो, जय कन्‍हैया लाल की
हाथी घोड़ा पालकी, बोलो जय कन्‍हैया लाल की
आपको सपरिवार
जन्‍माष्‍टमी की हार्दिक शुभकामनाएं!
Nand Ke Ghar Aanand Bhayo, Jai Kanhiya Lal Ki!
Hathi Ghoda Palki, Boolo Jai Kanhiya Lal Ki!!
Aapko Saparivar
Janmashtami Ki Hardik Subhkamnaye!!
गाय का माखन, यशोधा का दुलार,
ब्रह्माण्ड के सितारे कन्हैया का श्रृंगार।
सावन की बारिश और भादों की बहार,
नन्द के लाला को हमारा बार-बार नमस्कार।
---
Logo ki raksha karne
Ek ungali par pahaad uthaya
Ussi kanhaiyya ki yaad dilaane
Janmashtami ka paavan din aaya.
---
पवित्र पर्व आज का दिन हैं
लिया जनम हमारे कृष्णा ने
जिसके लिए सर्वत्र ब्रह्माण्ड प्रसन्न हैं
जय किशन, जय किशन
जय घोष से विश्व धन्य हैं
जय श्री कृष्णा
---
For this, is a special time when family
And friends get together,for fun.
Wishing laughter and fun to cheer your days,
In this festive season of Janmashtami and always.
Happy Krishna Janmashtami
---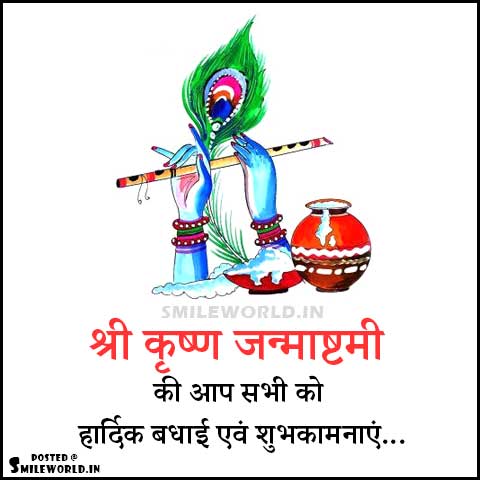 श्री कृष्ण जन्माष्टमी
की आप सभी को हार्दिक बधाई एवं शुभकामनाएं…
---
हम भी कान्हा सा दिल
रखते हैं।
कोई एक तोड़ भी दे
तो एक और साथ रखते हैं।
जन्माष्टमी की शुभकामनाये
😊💗
---
कभी ना टूटे जो, वो साज बन जाआे,
मैं बनूँ तुम्हारी राधा,
तुम इस जन्माष्टमी मेरे श्याम बन जाओ !!
---
नाम तुम्हारे लाखों हैं
किस नाम से आखिर बुलाएं तुम्हें
बहुत एहसान किए हैं तुमने
आखिर उनको भूल जाए कैसे
राधे राधे
happy Krishna janmashtami
---
Nath khat Nand kishore.
Mohini surat, mor pank lagaye
Niharu nit wahi hain chit chor
Mand-mand muskaye
Radha kay mann ko bhaye
Goppiyon sang rass rachaye
Yeahi hain woh makhan chor
🙏Hare krishna🙏Hare krishna 🙏
Happy Janmashtmi to all dear frds,
---
सलाह सब देते है रोज़ ख़ुश रेहने की
किन्तु मेरी ख़ुशी का कारण बस एक
"कॄष्ण"
---
राधा का वो दिवाना, गायों का हैं ग्वाला!
बांसुरी की धुन पर, सबको नचाने वाला!
दोस्ती प्रेम का प्रतीक, सांवली सूरत वाला!
धूम मचाना जमकर, श्याम हैं आने वाला!!
{हैप्पी कृष्ण जन्माष्टमी}