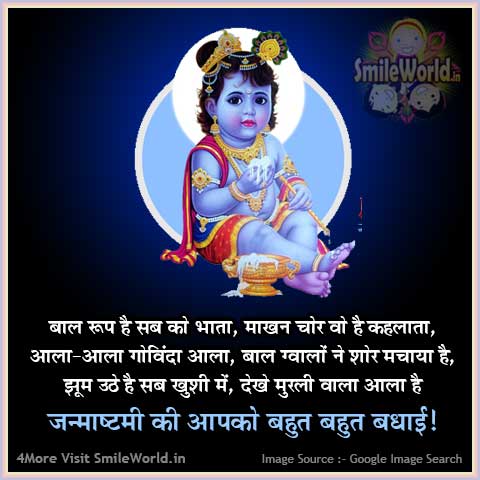 बाल रूप है सब को भाता, माखन चोर वो है कहलाता,
आला-आला गोविंदा आला, बाल ग्‍वालों ने शोर मचाया है,
झूम उठे है सब खुशी में, देखे मुरली वाला आला है
जन्‍माष्‍टमी की आपको बहुत बहुत बधाई!!
Bal Rup Hai Sab Ko Bhata, Makhan Chor Wo Hai Kehlata,
Ala-Ala Govinda Aala, Baal Guwalon Ne Shor Machaya Hai,
Jhum Uthe Hai Sab Khushi Mein, Dekho Murli Wala Aala Hai!
Janmashtami Ki Aapko Bahut Bahut Badhai!!
मेरा आपकी कृपा से, सब काम हो रहा है,
करते हो तुम कन्हैया, मेरा नाम हो रहा है
पतवार के बिना हे, मेरी नाव चल रही है,
बस होता रहे हमेशा, जो कुछ भी हो रहा हैं
The day of love and fortune
The day of birth of lord Krishna
A lover,friend & divine guru
Happy Krishna Janmashtami
Janmashtami ke is shub avsar par.
Hum ye kaamna karty hai ki.
Shree Krishna ki kripa.
Aap pr, aur app ke pure
parivar par Humesha bani rahe !.
Jai Shree Krishna
नन्द का दुलारा, देवकी का प्यारा
यशोदा की आँख का तारा
जय हो तेरी गोकुल के ग्वाला
पीड़ा हरो हम सबकी
यह विनती है हम सबकी
अब तो दर्श दिखाओ भगवन
जय हो जय नटखट नन्द लाला
वृन्दावन का यारा
तेरी सदा ही जय जय कारा !
Makhan churakar jisne khaya,
Bansi bajakr jisne nachaya,
Kushi manao uske janamdin ki,
Jisne duniya ko PREM ka path dikhaya.
Wish u very happy shri krishan janmastami.
पल पल हर पल तुमको पुकारू
जनम जनम से बाट निहारु
कर दे कृपा तोपे तन मन वारू
अपने बाग का फूल समझ कर
प्रेम करो कृष्णा प्रेम करो कृष्णा..
Krishna Janmashtami Sms Text Messages
पलकें झुकें , और नमन हो जाए…….!!
मस्तक झुके, और वंदन हो जाए……!!
ऐसी नज़र, कंहाँ से लाऊँ, मेरे कन्हैया
कि आपको याद करूँ और आपके दर्शन हो जाए..!!
कृष्णा जन्माष्टमी की हार्दिक शुभकामनाये