Get Happy Birthday Wishes, Shayari, Status, Messages in Hindi With Images You Can Download and Share on Instagram, Twitter, Facebook and Whatsapp Profile Status Update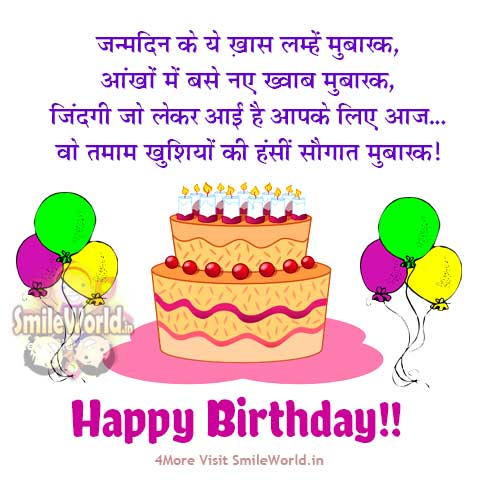 जन्मदिन के ये ख़ास लम्हें मुबारक,
आँखों में बसे नए ख्वाब मुबारक,
जिंदगी जो लेकर आई है आपके लिए आज..
वो तमाम खुशियों की हंसीं सौगात मुबारक!
Janamdin Ke Ye Khash Lamhe Mubarakh,
Ankho Mein Base Naye Khuwab Mubarakh,
Zindagi Jo Lekar Aai Hai Aapke Liye Aaj…
Wo Tamam Khusiyon Ki Hasi Saugat Mubarakh!!
!! Happy Birthday !!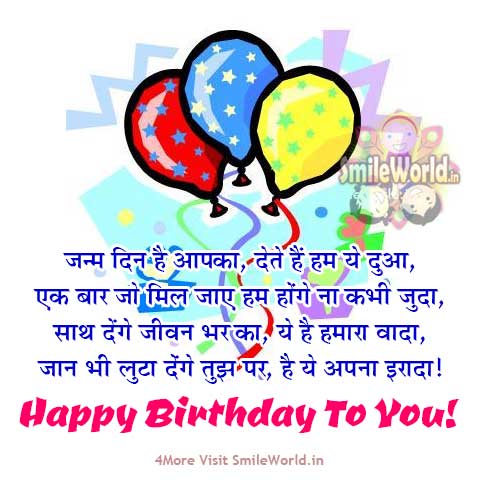 जन्म दिन है आपका, देते हैं हम ये दुआ,
एक बार जो मिल जाए हम होंगे ना कभी जुदा,
साथ देंगे जीवन भर का, ये है हमारा वादा,
जान भी लुटा देंगे तुझपर, है ये अपना इरादा!
Janam Din Hai Aapka, Dete Hain Ye Dua,
Ek Bar Jo Mil Jaye Hum Honge Na Kabhi Juda,
Sath Denge Jeevan Bhar Ka, Ye Hai Hamara Wada,
Jaan Bhi Luta Denge Tujh Par, Hai Ye Apna Irada!!
Happy Birthday !!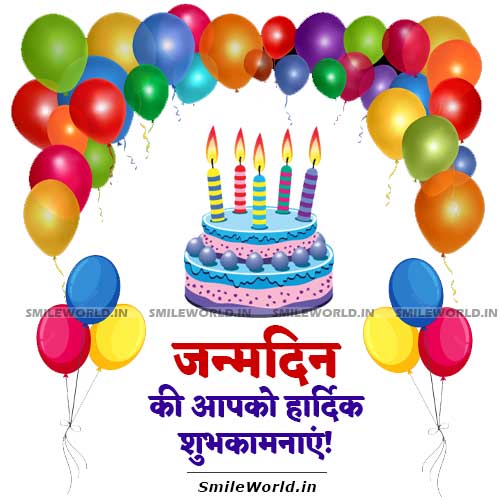 आसमान की बुलंदियों पर नाम हो आपका,
चाँद की धरती पर मुकाम हो आपका,
हम तो रहते है छोटी सी दुनिया में,
पर खुदा करे सारा जहाँ हो आपका.
खुदा बुरी नज़र से बचाए आप को,
चाँद सितारों से सजाए आप को,
गम क्या होता है ये आप भूल ही जाओ,
खुदा ज़िन्दगी मे इतना हँसाए आप को.
Also View This
आपको जन्मदिन की बहुत बहुत बधाई!! ! Happy Birthday Wishes in Hindi