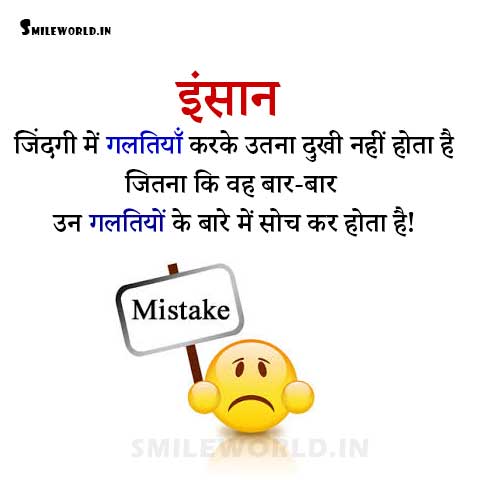 इंसान जिंदगी में गलतियाॅं करके उतना दुखी नहीं होता है
जितना कि वह बार-बार उन गलतियों के बारे में सोच कर होता है
Insaan Zindagi Main Galtiya Karke Utna Dukhi Nahi Hota Hai,
Jitna Ki Wah Bar-Bar Un Galtiyon Ke Bare Main Soch Kar Hota Hai!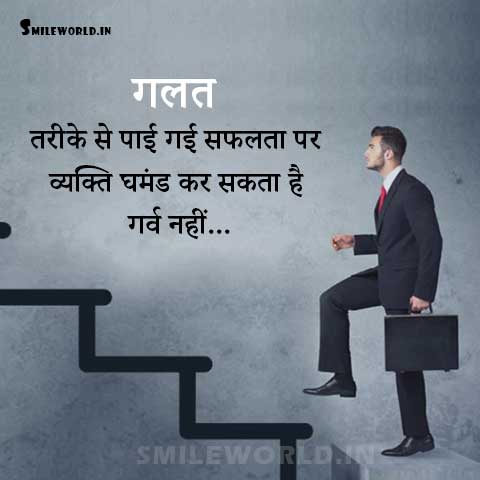 गलत तरीके से पाई गई सफलता पर
व्‍यक्ति घमंड कर सकता है
गर्व नहीं…
Galat Tarike Se Pai Gai Safalta Par
Viyakti Ghamand Kar Sakta Hai…
Garv Nahi…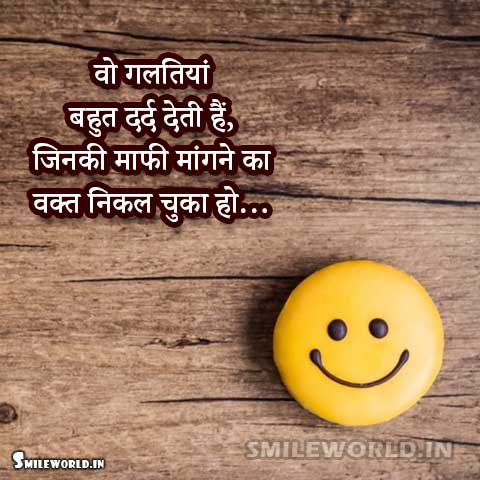 वो गलतियां बहुत दर्द देती हैं,
जिनकी माफी मांगने का वक्त निकल चुका हो…
Wo Galtiya Bahut Dard Deti Hai,
Jinki Mafi Magne Ka Waqt Nikal Chuka Ho!!
---
One mistake from a responsible person
And the whole world put him in
irresponsible category..
---
Maine sirf tujse pyar kiya,
tu kisi or se karti rhi
Jo pyar maine tujse kiya,
kisi or se nhi karunga
Tune meri jgah kisi or ko de dee
Lekin mai teri jgah kisi ko nhi dunga…….
---
Khud ki sbse bdi mistake…
Khud ki mistake accept krna …
Or fir bhi use continue rakhna ✌
---
How about experiencing,
'laughing & crying',
at the same time!
at a mistake made…?
---
Dusro ka galtiya pakadna jitna asan hai
Utna hi muskil hai apni galtiya pakad k use sudharna.
Kyuki ajkal logo ko apni galtiya se ,
dusro ki galtiya pe jayda nazar ata hain..!!