Read Very Funny Husband and Wife Karwa Chauth Virat Jokes, Cartoon, Funny Images in Hindi and Also Share With Friends and Family on Facebook and Whatsapp Status Update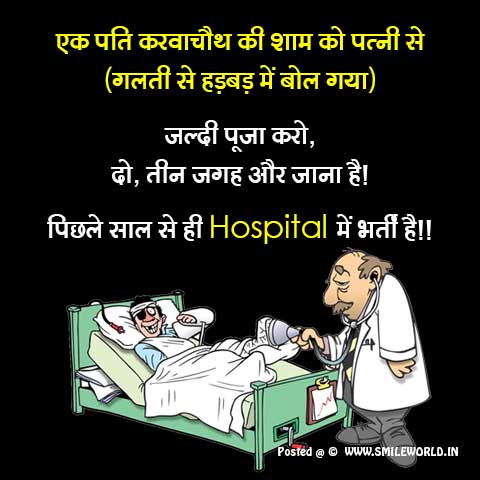 Ek Pati Karwa Chauth Ki Shaam Ko Patni Se
(Galti Se Hadbad Main Bool Gaya)
Jaldi Pooja Karo, 2-3 Jagah Aur Jana Hai!
Peechle Saal Se he Hospital Main Bharti Hai!!
एक पति करवाचौथ की शाम को पत्नी से
(गलती से हड़बड़ में बोल गया)
जल्दी पूजा करो,
दो, तीन जगह और जाना है
पिछले साल से ही Hospital में भर्ती है!!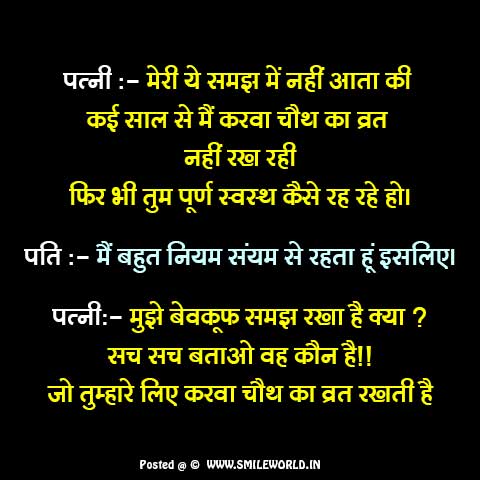 Patni:- Meri Ye Samjh Main Nahi Aata Ki,
Kai Salon Se Mein Karwa Chauth Ka Virat Nahi Rakh Rahi!!
Phir Bhi Tum Purn Suwasth Kaise Reh Rahe Ho??
Pati:- Main Bahut Niyam Sayam Se Rehta Hun Is Liye!
Patni:- Mujhe Bewakoof Samjh Rakkha Hai Kya?
Sach Sach Batao Wah Koun Hai??
Jo Tumhare Liye Karwa Chauth Ka Virat Rakhti Hai!!
पत्नी :- मेरी ये समझ में नहीं आता की कई साल से
मैं करवा चौथ का व्रत नहीं रख रही फिर भी तुम पूर्ण स्वस्थ कैसे रहे हो।
पति :- मैं बहुत नियम संयम से रहता हूँ इसलिए।
पत्नी :- मुझे बेवक़ूफ़ समझ रखा है क्या ?
सच सच बताओ वह कौन है
जो तुम्हारे लिए करवा चौथ का व्रत रखती है!!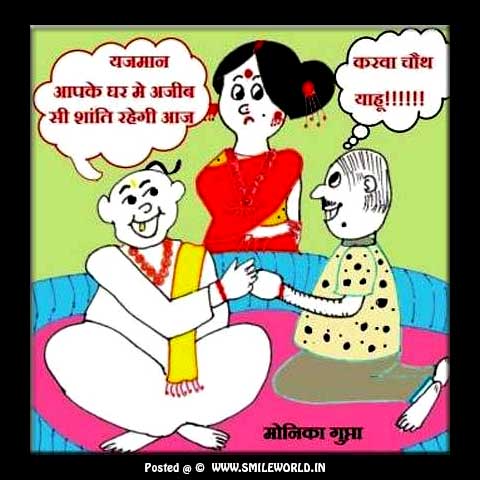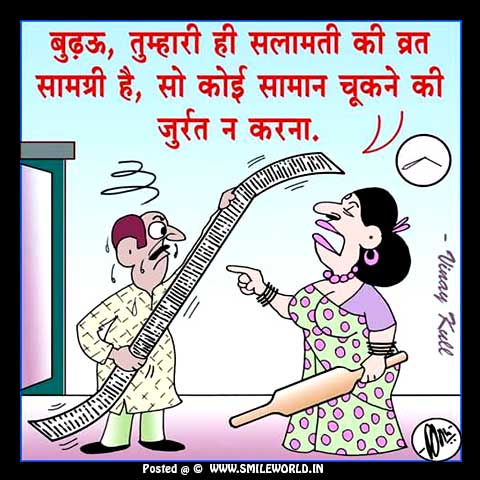 बुढ़ऊ, तुम्‍हारी ही सलामती की व्रत सामग्री है,
सो कोई सामान चूकने की जुर्रत न करना।
---
ई गोला की औरतें पति की लम्बी उम्र के लिए
करवा चौथ का व्रत रखती है।
लेकिन पति पत्नी की लंबी उम्र के लिए कोई व्रत नही रखते है।।
ई कैसन लोचा है भाई।
लगता है ससुरा कोनो फिरकी ले रहा है।🤣
---
Valentine's day..Haha
Bachchiya Manati Hai…
Meri Wali To Karwachoth Manaygi..!!