A Collection of Best Emotional Shayari in Hindi, If You Want Best Pyar Love Shayari in Hindi For Girlfriend, Sentimental Sad Love and Pyar Mohabbat Shayari Images Status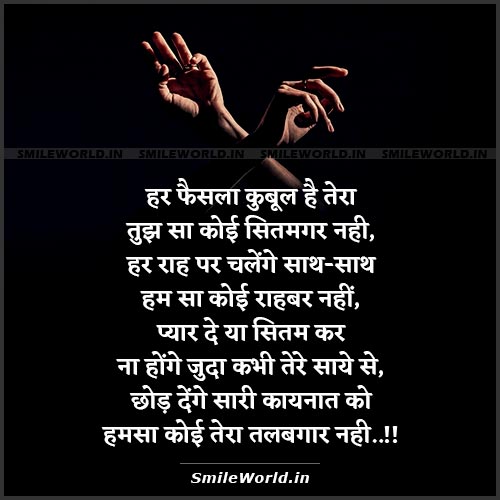 हर फैसला कुबूल है तेरा
तुझ सा कोई सितमगर नही,
हर राह पर चलेंगे साथ-साथ
हम सा कोई राहबर नहीं,
प्यार दे या सितम कर
ना होंगे जुदा कभी तेरे साये से,
छोड़ देंगे सारी कायनात को
हमसा कोई तेरा तलबगार नही..!!
Har Faisla Kubul Hai Tera…
Tujh Sa Koi Sitamgar Nahi,
Har Rah Par Chalenge Sath Sath…
Hum Sa Koi Rahbar Nahi,
Pyar De Ya Sitam Kar…
Na Honge Juda Kabhi Tere Saye Se,
Chhod Denge Sari Kaynat Ko…
Humsa Koi Tera Talabgaar Nahi…!!
---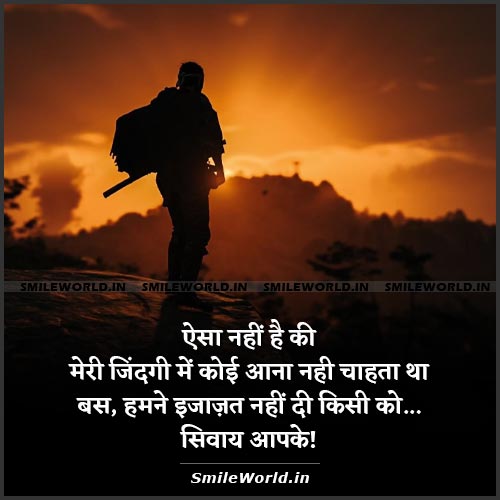 ऐसा नहीँ है की
मेरी जिंदगी में कोई आना नही चाहता था
बस, हमने इजाज़त नहीँ दी किसी को…सिवाय आपके
---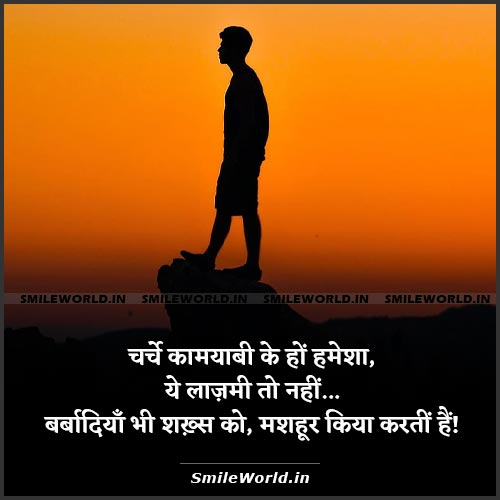 चर्चे कामयाबी के हों हमेशा, ये लाज़मी तो नहीं।
बर्बादियाँ भी शख़्स को, मशहूर किया करतीं हैं।
---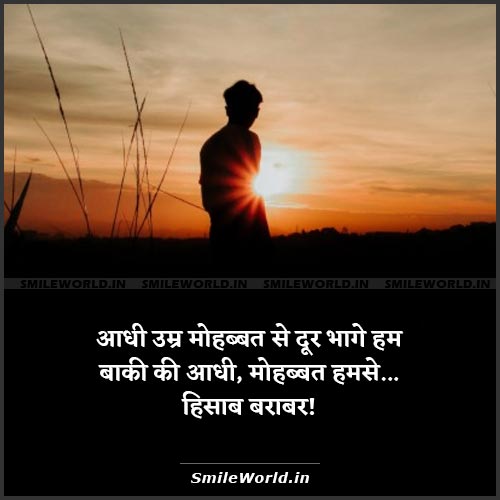 आधी उम्र मोहब्बत से दूर भागे हम
बाकी की आधी, मोहब्बत हमसे…
हिसाब बराबर.
---
एक अरसे से मुझको कहीं नज़र नहीं आये ,
बच्चे जबसे कमाने लगे कभी घर नहीं आये ,
मेरी हालत देख कर सोचता है वो परिंदा भी ,
अच्छा हुआ कि मेरे बच्चों के पर नहीं आये ।
---
वो कहते हैं,, मैं गजब लिखती हूँ..,,
बेख़बर! मैं तेरा ही दिया हुआ, हर दर्द लिखती हूँ !!