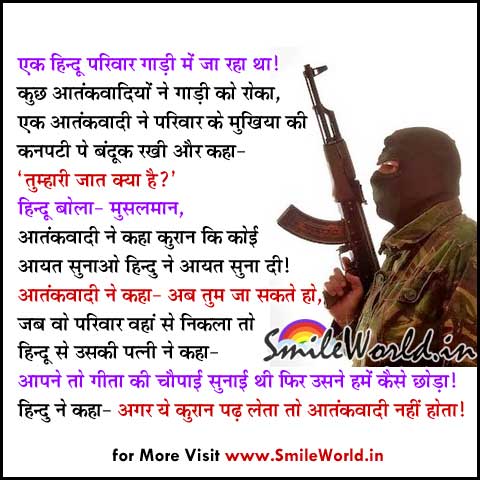 एक हिन्दू परिवार गाड़ी में जा रहा था!
कुछ आतंकवादियों ने गाड़ी को रोका,
एक आतंकवादी ने परिवार के मुखिया की
कनपटी पे बंदूक रखी और कहा-
'तुम्हारी जात क्या है?'
हिन्दू बोला- मुसलमान,
आतंकवादी ने कहा कुरान कि कोई
आयत सुनाओ हिन्दु ने आयत सुना दी!
आतंकवादी ने कहा- अब तुम जा सकते हो,
जब वो परिवार वहां से निकला तो
हिन्दू से उसकी पत्नी ने कहा-
आपने तो गीता की चैपाई सुनाई थी फिर उसने हमें कैसे छोड़ा!
हिन्दु ने कहा- अगर ये कुरान पढ़ लेता तो आतंकवादी नहीं होता!
---
Ek Hindu Parivar Gaddi Main Jaa Raha Tha!
Kuch Aatankwadiyon Ne Gaddi Ko Roka,
Ek Aatankwadi Ne Parivar Ke Mukhiya Ki
Kanpatti Pe Bandook Rakhi Aur Kaha-
"Tumhari Jaati Kya Hai?"
Hindu Boola:- Musalman
Aatankwadi Ne Kaha Kuran Ki Koi Ayat Sunao!
Hindu Ne Ayat Suna Di!… Aatankwadi Ne Kaha:-
Ab Tum Jaa Sakte Ho, … Jab Wo Parivar Wahan Se
Nikla To Hindu Se Uski Patni Ne Kaha:-
Apne To Geeta Ki Chaupai Sunai Thi Phir Usne Humein Kaise Chhor Diya??
Hindu Ne Kaha :- Agar Ye Kuran Padha Leta To Aatankwadi Nahi Hota!!!