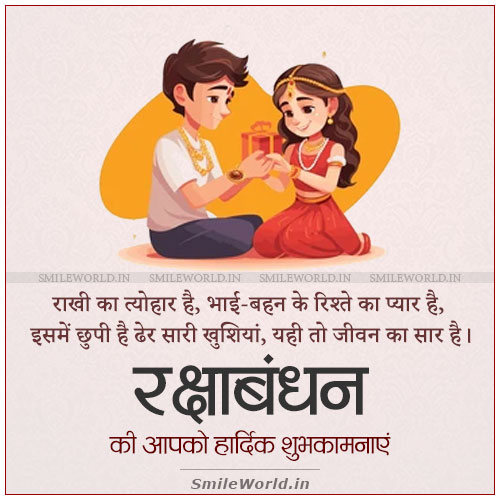 भाई-बहिन के प्यार का प्रतीक है ये
स्नेह सुरक्षा सम्मान से प्रदीप्त है ये
रक्षाबंधन का त्यौहार साथ में रिमझिम फुहार
सावन के मौसम में देखो आई खुशियों की बौछार
भाई की कलाई सजेगी बहिन के प्यार से
बहिन का चेहरा खिलेगा भाई के उपहार से
कैसा पवित्र रिश्ता है, कैसा निर्मल नाता है
सबसे पावन पर्व ये, सबके मन को भाता है!!
Aaj ka din bahut hi khaas hain,
Behna ke liye kuch mere pas hai,
Tere sukoon ki khaatir o behna..
Tera bhaiya humesha tere sath hai
Happy Raksha Bandhan Sis
जब खुदा ने दुनिया को बनाया होगा
एक बात से जरूर घबराया होगा
कैसे रखूँगा ख्याल इतनी कुड़ियों का,
तब उस ने सब के लिए एक भाई बनाया होगा
Sister,you are like a fragrant rose.
Sister, you are the greatest gift of life.
Sister,you lift my spirit to newer heights.
Sister, you make me feel special always.
Happy Rakshabandhan to my lovely sister
Sister cares and shares her feelings.
She hears the unspoken words.
She understands the invisible pain.
I love my sister for there for me.
Happy Raksha Bandhan!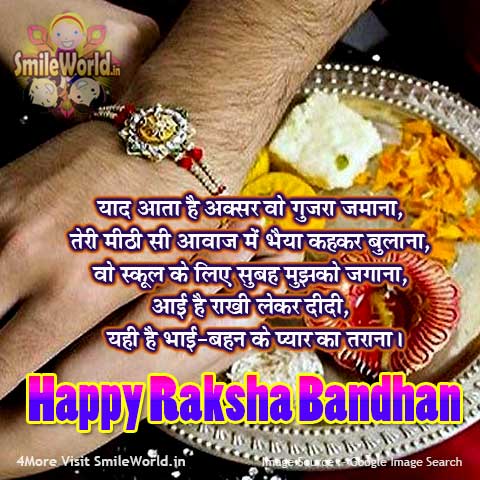 याद आता है अक्सर वो गुजरा ज़माना,
तेरी मीठी सी आवाज में भैया कहकर बुलाना,
वो स्कूल के लिए सुबह मुझको जगाना,
आई है राखी लेकर दीदी, यही है भाई-बहन के प्यार का तराना।
Yaad Aata Hai Akshar Wo Guzra Jamana,
Teri Meethi Si Awaj Mein Bhaiya Kehkar Bulana,
Wo School Ke Liye Subha Mujhko Jagana,
Aai Hai Rakhi Lekar Didi, Yahi Hai Bhai-Bahin Ke Pyar Ka Tarana
Happy Raksha Bandhan
रिश्ता हैं जन्मो का हमारा,
भरोसे का और प्यार भरा!
चलो इसे बांधे भैया,
राखी के अटूट बंधन में!!
रक्षा बंधन की हार्दिक शुभकामना..
May this Rakhi bring you everything
you desire and everything you dream of.
May success accompany you in every
step that you take.
Have A Blessed Rakhi
आसमान पर सितारे है जितने, उतनी जिंदगी हो तेरी,
किसी की नज़र न लगे, दुनिया की हर ख़ुशी हो तेरी,
रक्षाबंधन के दिन भगवान से बस यह दुआ है, मेरी!
रक्षा बंधन का हार्दिक अभिनन्दन!