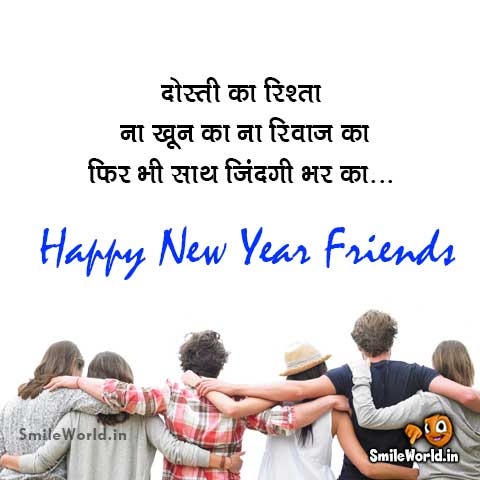 दोस्‍ती का रिश्‍ता
ना खून का ना रिवाज का
फिर भी साथ जिंदगी भर का
Happy New Year Friends!
I wish you to have a
Sweetest Sunday,
Marvelous Monday
Tasty Tuesday
Wonderful Thursday
Friendly Friday
Successful Saturday
Have a great Year
Happy New Year
Happy New Year Wishes in English Status for Whatsapp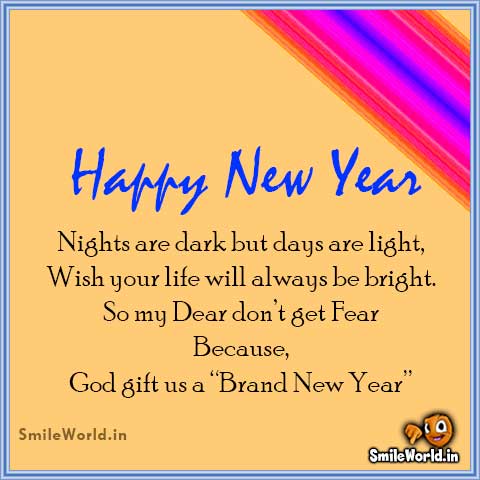 Nights are dark but days are light,
Wish your life will always be bright.
So my Dear don't get Fear
Because,
God gift us a "Brand New Year"
Happy New Year My Dear Friends!
---
Duniya Ki Har Khushi Aapke Kadam Choome Aur
Duniya Ki Har Kamyaabi Aapke Peeche Bhage,
Yahi Dua Karte Hain Hum,
Uparwale Se Iss Naye Saal Mein.
Naya Saal Aapko Bahut Bahut Mubarak Ho.
Happy New Year Friends!
---
Oh my dear, forget your fear
let all your dreams be clear
never put tear, please hear
I want to tell one thing in your ear
Wishing you a very happy new year
A new year – A new start
A new chapter – A new beginning
Forget the bad cherish the good
I sincerely wish you a very
blessed new year ahead
Happy New Year My Dear Friends!
---
Happy New Year Messages in English for Facebook Status Update
Hum Dua Karte Hain Ki Iss Naye Saal Ki,
Har Subah Aapke Umeed Jagayen,
Har Dopahar Vishwas Dilayen,
Har Sham Khushiyan Layen,
Aur Har Raat Sukoon Se Bhari Ho.
Naye Saal Ki Haardik Subhkaamnayen.
---
"Khushi Ke Aasu Rukne Na Dena
Gum Ke Aasu Bahne Na Dena
Yeh Zindagi Na Jane Kab Ruk Jayegi
Magar Ye Pyari Si Relationship Kabhi Tutne Na Dena…
Happy New Year."
Happy New Year Shayari in Hindi Picture Status
फूल खिल कर चमन में खुशबू फैलाता है
प्यार किसी के दिल में मोहब्बत बरसाता है
दिसम्बर नए साल की याद दिलाता है
नया साल का सफर दोस्तों के साथ शुरू होता है
---
नया साल 2019 आपको मुबारक हो
आने वाला वर्ष 2019 आपके जीवन में खुशियां,
स्वास्थ्य, सुख, समृद्धि लेकर आए
सभी पर ईश्वर की कृपा एवं स्नेह सदैव बना रहे
इस कामना के साथ नववर्ष की हार्दिक शुभकामनाएं
---
नया सवेरा नयी किरण के साथ
नया दिन एक प्यारी सी मुस्कान के साथ
आपको नया साल मुबारक हो ढेर सारी दुआओं के साथ
हैप्पी न्यू ईयर
---
नए साल आपको मुबारक हो
जब टूटने लगे हौसला तो बस ये याद रखना
बिना मेहनत के हासिल तख्तो ताज नहीं होते
ढूंढ़ लेना अंधेरों में भी मंजिल अपनी
जुगनू कभी रौशनी के मोहताज़ नहीं होते
"आपको नया साल मुबारक हो"
---
भुलाकर सारे दुःख भरे पल
दिल में बसा लो आने वाला कल
मुस्कुराओ खुल कर चाहे जो भी हो पल
क्योंकि आ रहा है नया साल लेकर खुशियों के पल
नववर्ष की बहुत बहुत शुभकामनायें
---
.-★-._.-☆-._.-☆-.
'★._ HAPPY _.★'
'¤-.★.-¤ '
.-☆-._.-★-._.-★-.
'☆._ NEW _.☆'
'¤-.☆.-+"
.-★-._.-☆-._.-☆-.
'★._ YEAR _.★'
'¤-.★.-+'
---
नव वर्ष की शुभकामनायें
इस नये वर्ष में जो तुम
चाहो वो हो जाये
हर दिन हो खूबसूरत
हर रात रोशन हो जाये