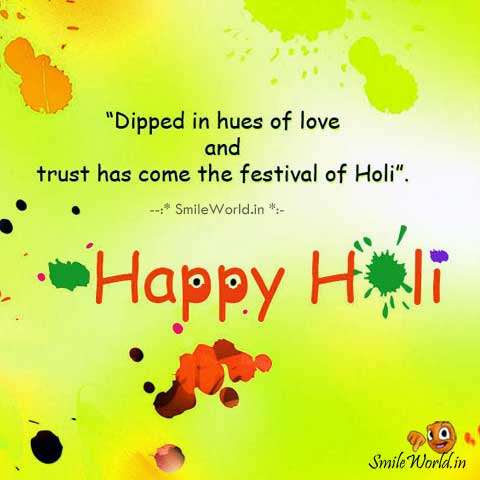 LAL, PILE, HARE,
KALE, HO JAOGE,
Ghabrao nahi, Holi hai bhai.. ?
HAPPY HOLI !!!! 140 Characters holi sms quotes in hindi
————————————————-
Har dam khushiya ho sath,
Kabhi daman na ho Khali
Hum sab Ke taraf se,
Wish you Happy HOLI.
————————————————
Hum Aap k dil me rahte hain,
Isliye Aap ki khabar rakhate hain.
Koi Humse pahle Wish na kar de Aapko,
Isliye 4 din pahle hi " HAPPY HOLI " kahte hain
————————————————
Jeewan k har rang dosto se hai Koi Laal,
Koi Neela Koi Hara,Koi Peela
Par jab bhi aapko dekhte hai dil bus yehi puchta hai.
YEH NAYA rang konsa hai. Happy Holi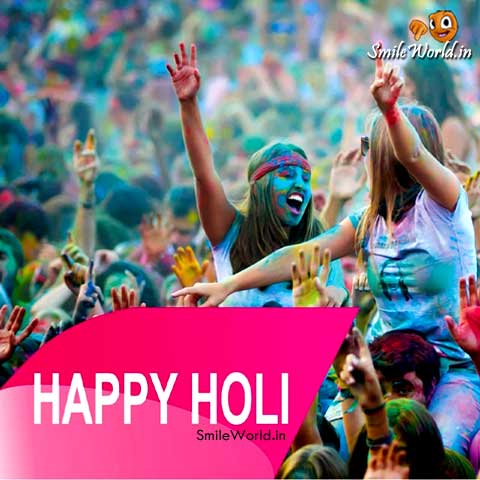 '(',')>
_/)(
<"\_Nacho nacho bare acche lag rahe ho yaar
Holi Mubarik.
————————————————-
((((`'·.¸(`'·.¸ ¸.·'´) ¸.·'´))))
«`'.¸.¤ Holi Mûßå®ãk ¤.¸.'´»
((((¸.·'´(¸.·'´ `'·.¸)`' ·.¸))))
————————————————-
.-""-.,.-""-.
! I MISS !
".  YOU .  "
  "'-.,.-"' Happy HOLI
————————————————-
Lal gulaabi rang hai,
Jhum raha sansar hai,
Suraj ki kiran khushiyon ki bahar,
Chand ki chandni apno ka pyar,
Shubh ho aapko yeh Rango ka tyohaar.
"HAPPY HOLI"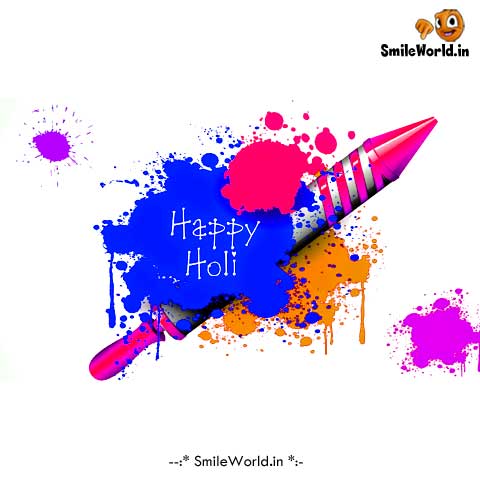 May be your LIFE be colored with the
COLORS of joy
COLORS of Friendship
COLORS of fun
COLORS of Love
COLORS of Happiness
ON HOLI AND ALWAYS!
————————————————-
Holi k rang bikhrenge,
Sang piya hum ab bheegenge,
Holi mein aur bhi rang hoga
Mere piya jab mere sang hoga ! holi sms for girlfriend !
————————————————-
DIL SE
: (¨`·.·´¨)
> `·.¸(¨`·.·´¨) say
> (¨`·.·´¨)¸.·´
> `·.¸.·´ Holi Mubarik ! holi sms for friend !
————————————————-
(,")/ HELLO!!
<)) "
_//_ Holi Mubarik
ascii holi sms collection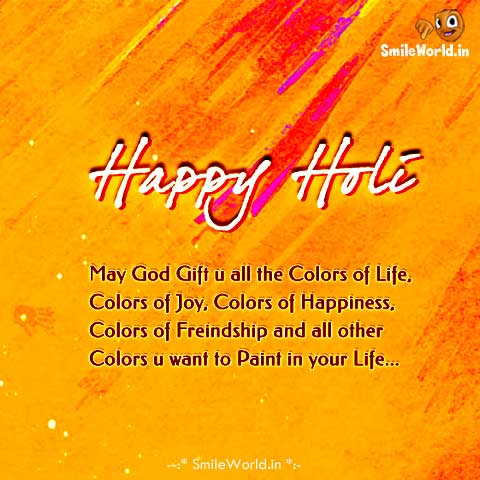 Red 4 luv. Yellow 4 freshness.
Green 4 prosperity.Blue 4 depth. Orange 4 Brightness. Pink 4 fun.
May these colours bring their meaning in ur life.
————————————————-
Lal "RANG" suraj se,
nila "RANG" asma se,
hara "RANG" hariyali se,
gulabi "RANG" gulab se,
tamam khushiya mile apko,
ye dua karte hai hum dil se.
"HAPPY HOLI"
————————————————-
Hawa ke Hath Paigam Bheja Hai,
Roshani ke Jariye 1 Arman Bheja Hai,
Fursat Mile To Kabul Kar Lena Is Nachiz Ne,
Rango ke Tyohar ka pyar bheja hai.
————————————————-
Aaj rang lo is mehfil mein,
khelo jhoom kar holi,
ched do har dil ko aaj
bol kar pyar ki boli,
lal gulal aur har rang mein
Aaye jeevan mein baharon ki doli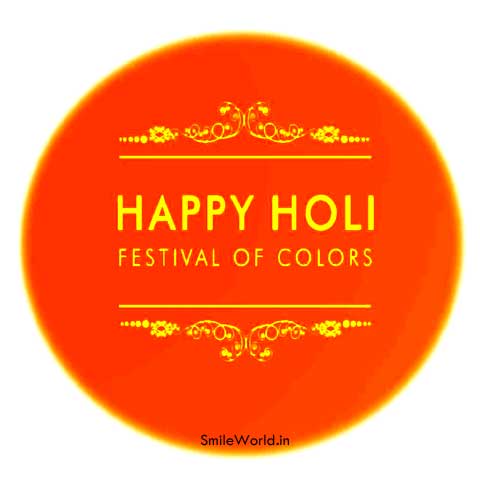 Rango tum, rangu mein,
Rangde sara ye jahaan,
Bass hassen aur gale lagen,
Aur bhulen dhusmani ka nishaan !
Holi Mubarak Ho !
————————————————-
Here I send you Rainbow message…
Dipped Colors of Joy and happiness,
Those will make your life even more colourful..
Happy Holi!!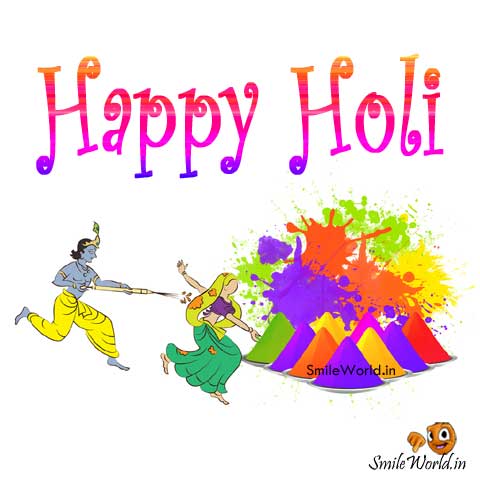 Colors are brightening up the scene,
the water sprinkling up high,
the holi is almost here..
so lets enjoy!!
Happy Holi to Everyone.
————————————————-
RED GREEN ORANGE YELLOW WHITE BLUE PINK
All These Colours R Dying 2 Touch Your Face & Ready 2
Fill Your Life With Beautiful Colours..
Wish You A Happy Holi My Dear. ——– new holi sms
————————————————-
A Smile can Give.. Red Colour 2 Yr Cheeks
White 2 ur Teeth Pink Colour 2 ur Lips
Silver Colour 2 ur Eyes, So Keep Smiling
&
Enjoy the Colours of Life. HAAPY HOLI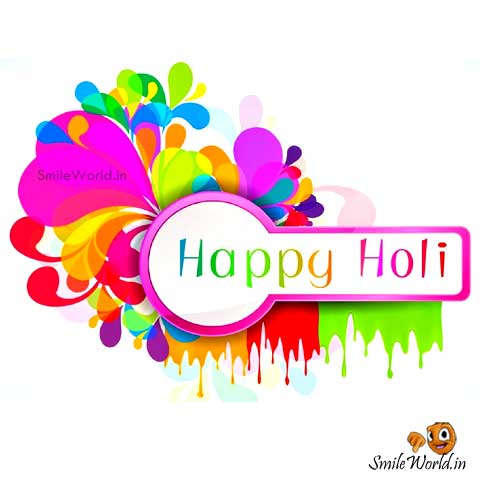 Nature ka har rang ap pe barse,
Har koi apse holi khelne ko tarse;
Rangde aapko sab itna,
K aap rang chhudane ko tarse. Enjoy colors.
Happy holi.
————————————————-
Kamna hai ki falgun ka yeh rangin utsav
sabke jivan mai dher sari khushiya laye…
Holi ki hardik subh kamanaye…..
————————————————-
Holi ke rang + Tumhare sang + thodi si bhang ,
mil jaaye to = Jai Jai Shiv Shankar ……
Kaanta Laagey Na Kankar …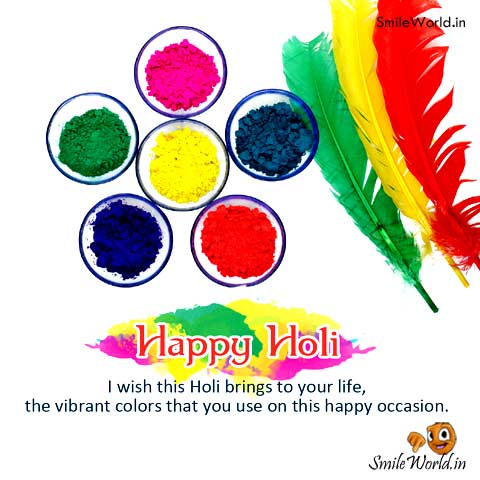 Happy Holli
I wish this holi brings to your life,
the vibrant colors that you use on this happy occasion.
————————————————-
Dipped in hues of love and trust has come the festival of Holi.
Happy Holi!!………….Holi sms messages english.
————————————————-
0 days
312 hours
18720 mins..
1123200 seconds…
are left…. I think i am the first person to
wish U HAPPY HOLI.
————————————————-
Pyar sneh samarpan dular mohabbat
sadbhawna sadvichar in saat rango ki
rahe baucchar aaj ka din laye aapke jeevan
me satrangi bahar. HAPPY HOLI !!…………best holi sms
————————————————-
Aise manana Holi ka tyohar
Pichkari se barse sirf pyar.
Ye hai mauka apno se gale mitane ka
To gulal or rang lekar ho jao taiyar
"HAPPY HOLI"
————————————————-
Rango ki varsha,
gulal ki phuhar,
suraj ki kirne,
kushiyon ki bauchar,
chandan ki kusbhu,
apno ka pyar,
mubarak ho apko holi ka tyohar !!
————————————————-
A Colourful Message,
to a colourful person,
for colourful day,
in a colourful way,
as a pray,
that the colourful ray,
may forever stay – "Happy Holi"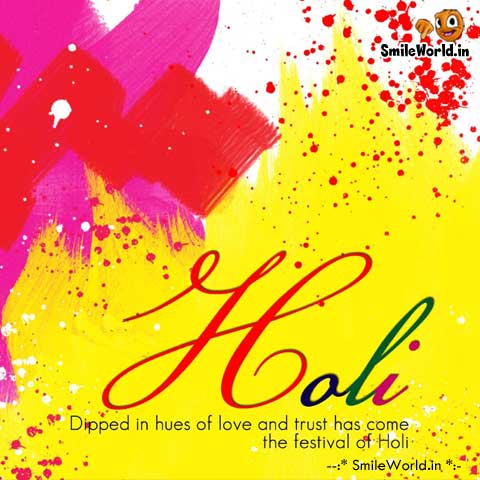 Just like a red rose that fills the world
with beauty & fragrance.
You have made my life so beautiful by being in it.
On Holi, the festival of colors & joy
I wanna say thank you for all the love & smiles
you've brought to my life.
Happy Holi
————————————————-
A touch of green i send to u.A drop of blue
to cool the hue.A tinge of red for warmth & zest
for a colorful HOLI! Hpy n Colorful HOLI
————————————————-
Evn though I m far away frm u,
out of India, I cn feel d colors of Holi celebrations.
I wish you all a colourful Holi.
I wish Holi Festival paint ur life wid colors of happiness
…………..holi sms in english
————————————————-
Happy Holi !!
Enjy evry colour of Holi
nd u will gt evry happiness u desire.
God is always wid u.
Enjoy evry moment.
Keep smiling.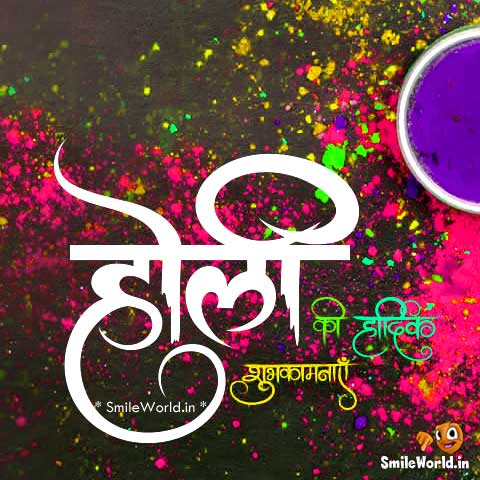 Peace from white,
Power from red,
Knowledge from yellow,
Development from green,
Love from pink.
May this holi add all colors in your life.
Happy Holi!
————————————————-
Hr Holi albeli hoti
Holi ati hume batati
jane kitne raj dikhati
Holi aati rang lagati
Holi aati gale lagati
Aakar sb ko nahelati..
Happy Holi !!!!…….holi sms collection
————————————————-
Holi aati yaad dilati
Rango se tann mann sahlati
Bheege bheege geet sunati
Pichkaari se rang barsaati
Happy Holi…
————————————————-
May God paint d canvas of ur life with
d most beautiful colors sprinkles,
Peace, Luck, Success and joy at every step…
Wish U A Very Colourful and Happy Holi………