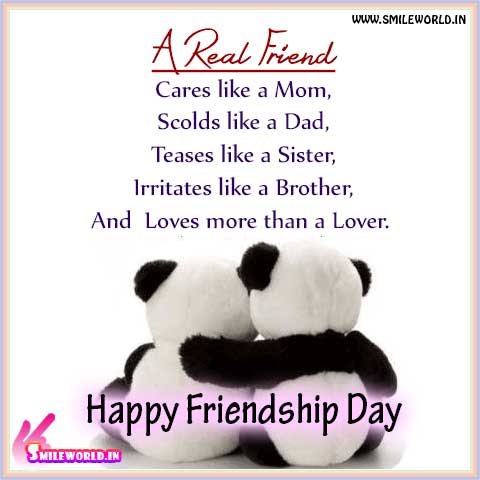 ~:: 140 character sms ::~
"Dosti" dil hai, dimag nahi
Dosti soch hai, awaz nahi
Koi ankho se nahi dekh sakta dosti ke jazbe
Kyun ki dosti ehsaas hai, andaz nahi!!
Baatein aisi karo ke jajbaat kabhi kam na ho
Khayalat aise rakho ke kabhi gum na ho
Dil me apni itni jagha dena Dost hume
Ke khali-khali sa lage jab hum na ho..
~ Happy Friendship Day, Dear Friend!~
SMS doesn't only mean
Short Messaging Service
but it also means
Special
Moment
Sharing
with
Someone
Most
Special
Like U….
Lage Na najar is DOSTI ko jamane ki,
Pade Na jarurat 1 dujeko manane ki,
Tum na todna DOSTI Hamari,
Warna Tamanna Na rahengi Naye Dost Banane Ki.
Tammana dil ki hasrat hai,
Puri ho jaye to hum khush-kismat hai,
Na poori ho to gam na karna, Mere dost
Kyonki adhuri rehna to tamanna ki fitrat hai.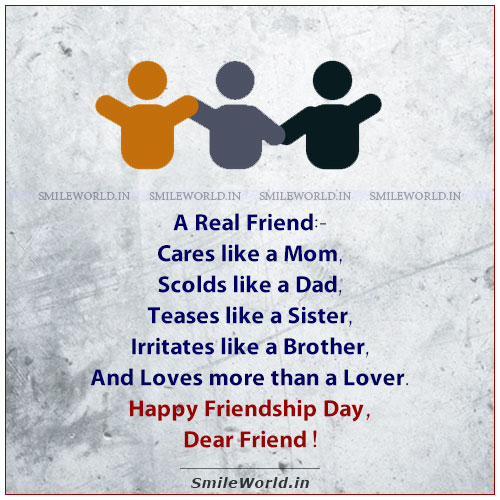 A Real Friend:-
Cares like a Mom,
Scolds like a Dad,
Teases like a Sister,
Irritates like a Brother,
And Loves more than a Lover. ~ Happy Friendship Day, Dear Friend!
Ek "D I L" ne " A A N K H"
se pucha, tu ~ D o s t i ~
mai itni q khoi hai,
tab "A A N K H" se aawaz aai.
D o s t i ne hi di hai sari khushiyan,
Varna ~ P Y A R ~ karke to har A A N K H Roi hai.
Kuch dino se baat na ho payi
Kya apne samjha hame apki yaad na ayi
Waise apki yaad to kabi ati hi nahi
Qki hum apko kabhi bhool pate hi nahi
Love+Care=Mummy
Love+Fear=Father
Love+help=Sister
Love+Fight=Brother
Love+Life=Wife
BUT
Care+Fear+Help+Fight+Life=Friend like You!!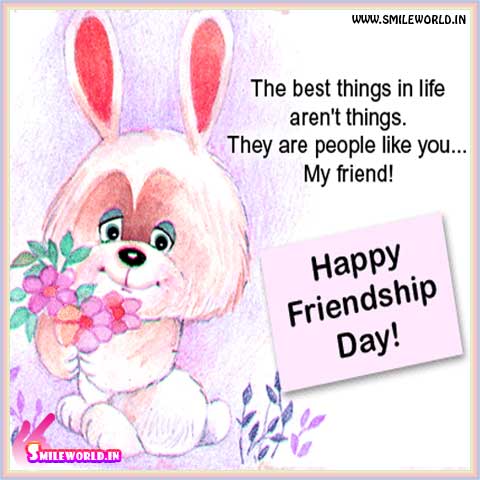 The Best Things in Life aren't things.
They Are People Like You My Friend!
Happy Friendship Day my Sweet Friend!
Rishta banaya hai tho nibhayenge
HAr paal aapko hasayenge,,
Pata hai aapko fursaat nahi yaad karne ki,
hum hi tang kar kar k aapni yaad dilayenge.
Sochna kabhi baith k akele me,
Kitne dost mile aapko dunia k mele me,
Kaun jhutha mila kaun sacha mila,
Sach-Sach batana kya koi hamse bhi achha mila.