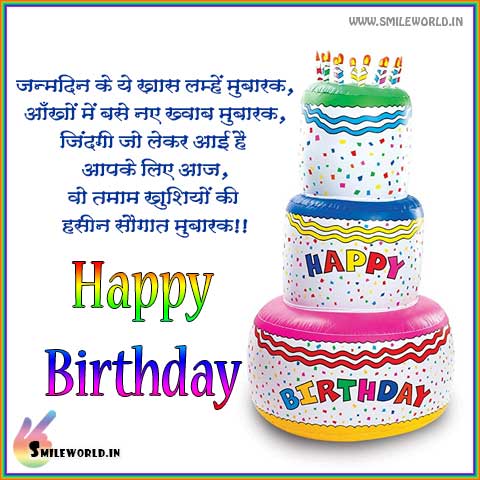 जन्मदिन के ये ख़ास लम्हें मुबारक,
आँखों में बसे नए ख्वाब मुबारक,
जिंदगी जो लेकर आई है आपके लिए आज,
वो तमाम खुशियों की हसीन सौगात मुबारक!!
आपको जन्‍मदिन की हार्दिक शुभकामनाएं!
Teri Umar Me likhdu Chand Sitaaro se,
Tera janam din Me manau phoolon aur bahaaro se,
har ek khushi Me duniya se le aau,
Sajaa lu ye Mehfil Me har haseen nazaaro se…
Suraj roshni le kar hai aaya,
Aur Pnchhiyon ne ganaa gaya,
Phoolon ne hai hass kar bola,
Mubarak ho Apka janam din aaya!
Har raah aasan ho,
Har raah pe khushiya ho,
Har din khubsoorat ho,
Aisa hi poora jivan ho,
Yahi har din meri dua ho,
Aisa hi tumhara har janamdin ho!!!
Happy Birthday!!
Happy Birthday Shayari Wishes in Hindi Images Status
तमन्नाओ से भरी हो आपकी जिंदगी
ख्वाहिशो से भरा हो हर पल
दामन भी छोटा लगे आपको
इतनी खुशिया दे आपको ये नया आने वाला कल
आपको जन्‍मदिन की हार्दिक शुभकामनाएं!।।
हो पूरी दिल की हर ख्वाहिश आपकी,
और मिले खुशियों का जहाँ आपको,
जब अगर आप माँगे आसमान का एक तारा,
तो भगवान देदे सारा आसमान आपको!!
लो आज इतनी सी दुआ है खुदा से हमारी,
ज़िंदगी में भर जाए आपके खुशियाँ सारी,
जनमदिन पे मिले आपको सब अपनो को प्यार,
ओर होठों पे आए मुस्कान सब से प्यारी!!
Happy Birthday !!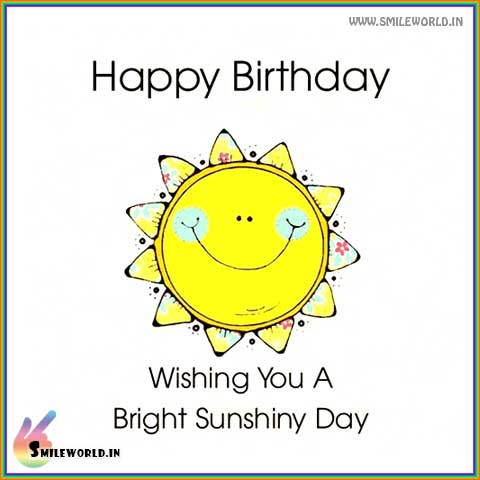 बहुत दूर है तुमसे,
पर दिल तुम्हारे पास है.
जिस्म पड़ा है यहां,
पर रूह तुम्हारे पास है.
जन्मदिन है तुम्हारा,
पर जश्न हमारे पास है.
जुदा है एक-दूसरे से हम,
पर फिर भी तुम हमारे पास,
और हम तुम्हारे पास है!!
"Happy Birthday"
A 4 = aap ko
B 4 = bhaut bhaut
C 4 = chori chori
D 4 = dil se
E 4 = ek bar
F 4 = face 2 face
G 4 = gale mila kar
Aap ko kehna chahte hai.
" HaPpY bIrtHdAy "
Janmdin k shubh avsar pr,
Bhent karu kya upahar tmhe,
Bas ese hi swekar kr lena,
Lakhon lakhon pyar tumhe…
Janamdin ki bahut bahut badhai tumhe…
Happy birthday frnd nd many-many happy return of the day ..
& may this year turn ur life in colourful mode…
nd u get succeed in every step of ur life
Happy Birthday!!
Tumhari is adaa ka kya javab du,
apne dost ko kya tohfa du,
koi achcha sa gulab hota to mali se mangvata,
par jo khud gulab hai usko gulab kya du…
Happy Birthday!!