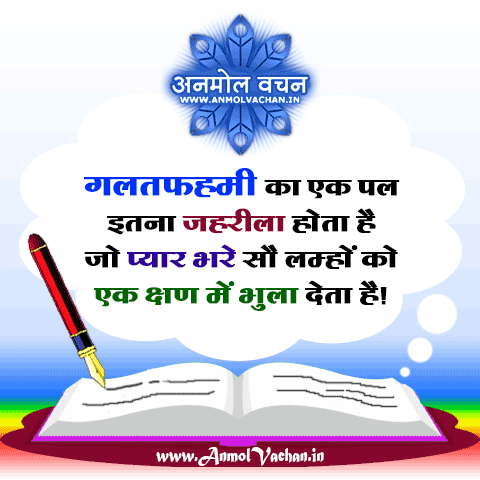 गलतफहमी का एक पल इतना जहरीला होता है,
जो प्‍यार भरे सौ लम्‍हों को एक क्षण में भुला देता है।
Galatfehmi Ka Ek Pal Etna Zehreela Hota Hai,
Jo Pyar Bhare Sau Lamhon Ko Ek Chan Main Bhula Deta Hai!
---
दोस्तों,
क्या गलतफहमी में विश्वास से ज्यादा ताकत होती है ?
---
हवा गलतफहमियों की हल्की सी चली थी
ईमारत मोहब्बत की पल में बिखर गयी
नीव कितनी मज़बूत थी मोहब्बत की "Munish"
ख़बर उसे भी हो गयी, मुझे भी हो गयी
---
Hum-nafaz banne ko mera wo kabhi taiyaar hi nahi tha…
Jiske liye sawaara khud Ko,
Use to intezaar hi Ni tha..
Or badi nazuk chiz hoti h galatfehmi janaab..
Taa-umr ki jiske hawaale wo to mera yaar hi ni tha..
---
काश हम उस पल थोड़ा ठहर जाते
गलतफहमी का पर्दा हटा के
सच्चाई में थोड़ा झाक लेते
तो शायद शायद आज हम साथ होते।