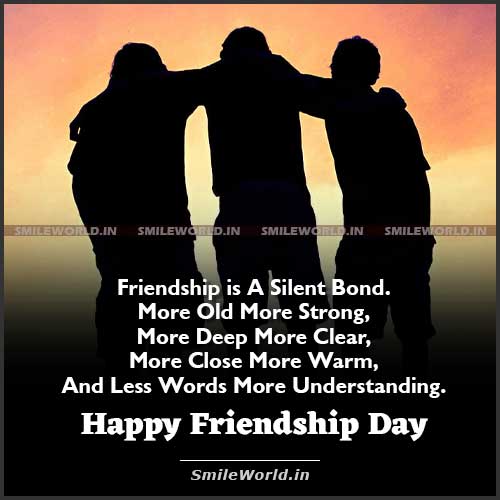 This is a Big Ship….
That is a Small Ship…..
Real Ship is One…..
That is a FRIENDSHIP.
Happy Friendship Day!
Some people give tears and make us cry;
Some give smiles and make us laugh;
But only rare can give us Laughing Tears and Crying Smiles.
Those are our Best Friends like you!
This is my LAST SMS for you LAST means
L-Love you always
A-Always miss you
S-Save you in my heart
T-True friend always
I am nöt "Rabindranath" tö write lovely poem about u.
I am nöt "Jackson" tö sing melodious songs 4 u.
I am nöt "Leonardo" tö draw tö ur best picture.
I am önly ur true friend forever….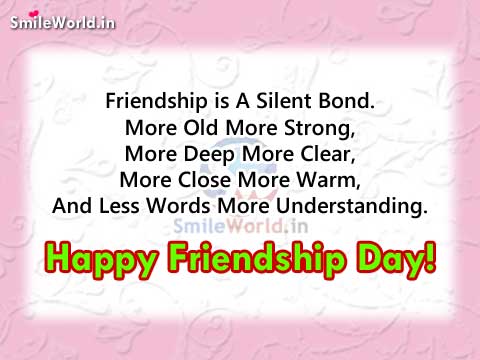 Friendship is A Silent Bond.
More Old More Strong,
More Deep More Clear,
More Close More Warm,
And Less Words More Understanding.
Happy Friendship Day!
Search for truth you will find beauty
Search for beauty you will find Love
Search for love you will find friendship
Search for friendship you will find ME
Happy Friendship Day
#;—–;#
Dis Is Bridge Of Friendship'
When U r Sad & Lonely.
Cross It.
I'LL Wait On D Other Side &
If U R Afraid Off Just Tell Me
I'll Cross It 4U
Best friends we are
Best friends we'll be
For always forever
You and Me
('-_-')(@.@)
< ) (__/(II)>
_/ /_ ._/ /_