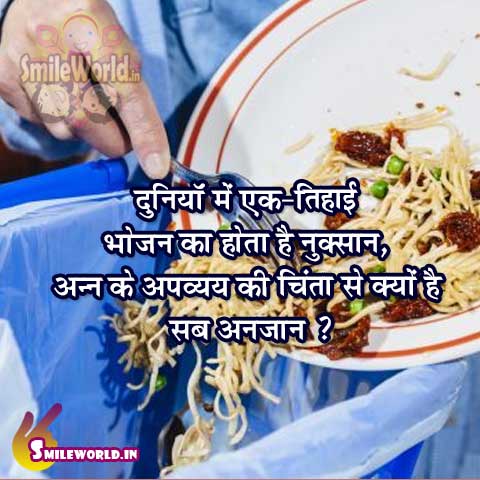 👉🏽  दुनियाँ में एक-तिहाई भोजन का होता है नुक्सान,
अन्न के अपव्यय की चिंता से क्यों है सब अनजान ?
👉🏽 Duniya Main Ek Tihai Bhojan Ka Hota Hai Nuksaan,
Ann Ke Apviyay Ki Chinta Se Kyo Hai Sab Anjan?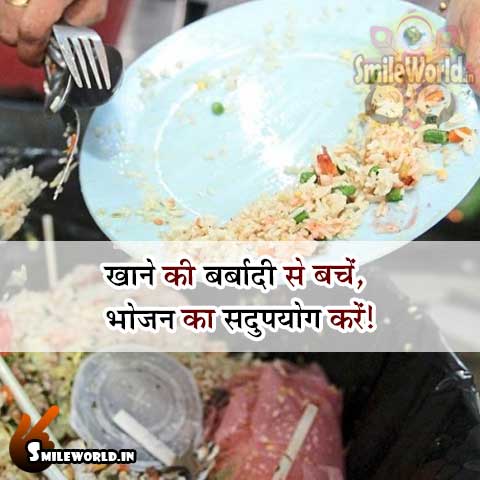 👉🏽 खाने की बर्बादी से बचें,
भोजन का सदुपयोग करें।
👉🏽 Khane Ki Barbadi Se Bachein,
Bhojan Ka Sadupyog Karein!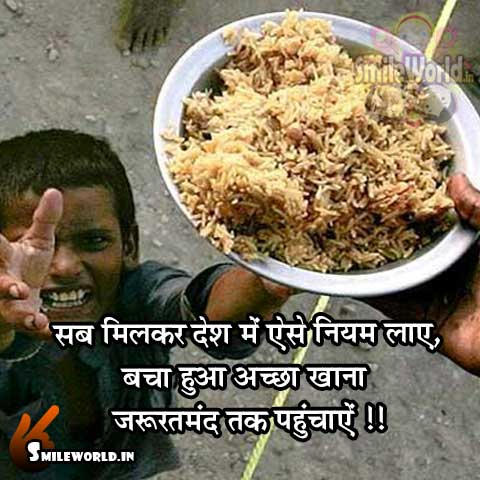 👉🏽  सब मिलकर देश में ऐसे नियम लाएँ,
बचा हुआ अच्छा खाना जरूरतमंद तक पहुँचाएँ!!
👉🏽  Sab Milkar Desh Main Aisa Niyam Laye,
Bacha Hua Accha Khana Jaruratmand tak Pahuchaye!!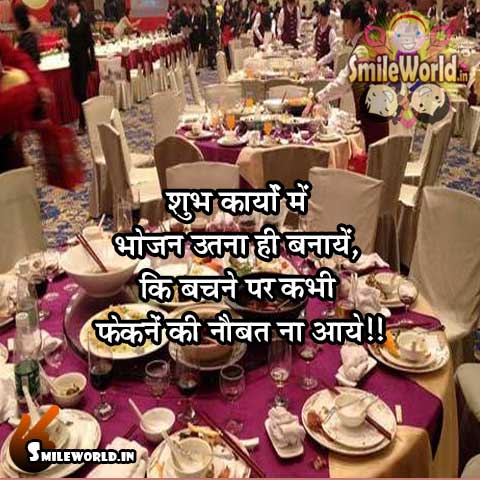 👉🏽  शुभ कार्यों में भोजन उतना ही बनायें,
कि बचने पर कभी फेकनें की नौबत ना आये!!
👉🏽  Subh Kariyoin Main Bhojan Utna He Banayein,
Ki Bachne Par Kabhi Fekane Ki Naubat Na Aaye!
Slogans on Avoid Food Wastage in Hindi With Images
👉🏽  शादियों में होती है भोजन की बर्बादी,
विचार करें कितनी होती है नुकसानी!!
👉🏽  Shadiyo Mein Hoti Hai Bhojan Ki Barbadi,
Vichar Kare Kitni Hoti Hai Nukshani!
👉🏽  भोजन है जीवन,
अन्न ही है परब्रह्म।
👉🏽  Bhojan Hai Jeevan, Ann He Hai Parbram
👉🏽  खाने की बर्बादी को रोको,
अर्थव्यवस्था आहात होती है,
इससे बात हमारी जानों!
👉🏽  Khane Ki Barbadi Ko Roko,
Arthviyavastha Ahat Hoti Hai,
Isse Baat Baat Hamari Jano!!
👉🏽 अन्न फेकने के कारण, नुक्सान हो जाये!
जहाँ फेके वहाँ फैले दुर्गन्ध, और स्वच्छता में बाधा आये!!
👉🏽  Ann Fekane Ke Karan, Nukshan Ho Jaye,
Jahan Feko Wahan Durgandh, Aur Swachta Mein Badha Aaye!
👉🏽  दाम नहीं मिलने पर,
किसान बड़ी मात्रा में सब्जी फेके जाए!!
बांटे यदि लोगों में, तो उनकीं दुआ मिल जाए!!
👉🏽  Dam Nahi Milne Par,
Kishan Badi Matra Mein Sabji Feke Jaye,
Bante Yadi Logo Mein, To Unki Dua Mil Jaye!!