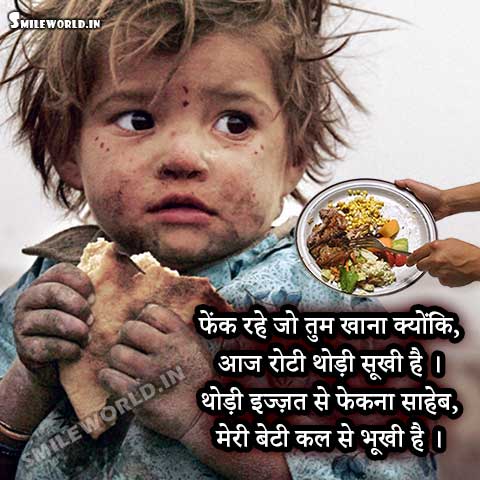 फेंक रहे जो तुम खाना क्योंकि,
आज रोटी थोड़ी सूखी है ।
थोड़ी इज्ज़त से फेकना साहेब,
मेरी बेटी कल से भूखी है ।
Feq Rahe Jo Tum Khana Kyoki,
Aaj Roti Thodi Sukhi Hai….
Thodi Ijjat Se Feqna Saheb!!
Meri Beti Kal Se Bhukhi Hai!!
Hungry Child Wastage of Food in India Quotes in Hindi With Images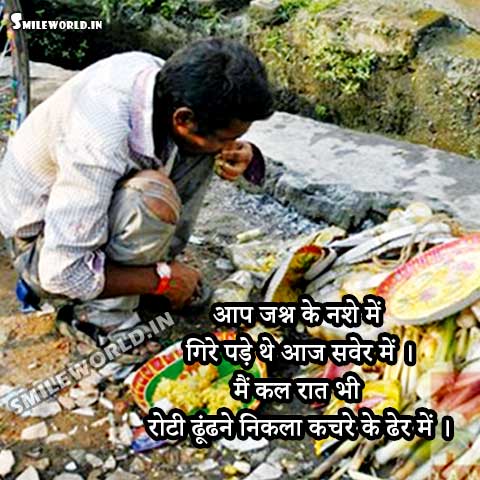 आप जश्न के नशे में
गिरे पड़े थे आज सवेर में!
मैं कल रात भी
रोटी ढूंढने निकला कचरे के ढेर में!
Aap Jasan Ke Nase Main
Gire Pade The Aaj Savere Mein…
Mein Kal Raat Bhi
Roti Dundne Nikla Kachre Ke Dher Mein!
---
रास्तों पे रातों को, भूख थी भटक रही
नींद भी थी आँखों में, आने से अटक रही
आँखों के किनारों से, नींद नोच खा गयी
भूख अपना पेट भर, पेट में समा गयी
ख़ामोशी के कुएँ में, एक ख़ला पलता था
एक तलवा दूसरे को, बेवजह मलता था
आँखों का नमक निचोड़, चाव से चबा गयी
भूख अपना पेट भर, पेट में समा गयी
चाँद के एक बताशे, ने जी ललचाया था
चखने उस बताशे को, हाथ भी बढ़ाया था
बादलों की थी सगी, चाँद को छिपा गयी
भूख अपना पेट भर, पेट में समा गयी
– अंशुल नागोरी
---
ना कोई खुदा था उसका ना ही कोई भगवान,
वो जो भीख मांग रहा था मंदिरों के बाहर
वो भूखा था दोस्तों,
ना तो वो कोई हिन्दू था ना ही मुसलमान…
(#Hunger has no Religion)
---
कोहरे की धुंध अब खत्म हो चुकी है ।
भीतर का शैतान अब साफ नज़र आने लगा ।
मेरी बेटी तो कब का भूख से सो चुकी है।
कोई बस तस्वीर खींच कर दरवाजे से जाने लगा ।