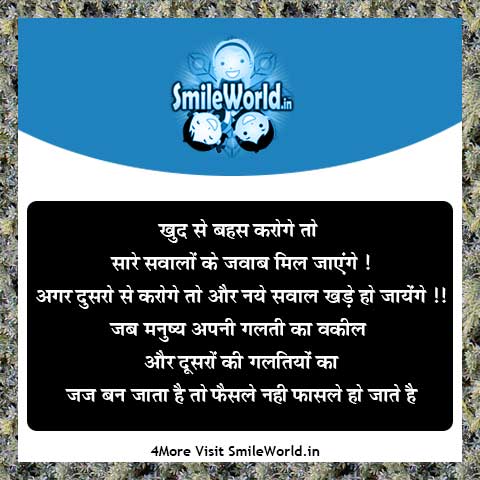 खुद से बहस करोगे तो सारे सवालों के जवाब मिल जाएंगे !
अगर दुसरो से करोगे तो और नये सवाल खड़े हो जायेंगे !!
जब मनुष्य अपनी ग़लती का वक़ील और दूसरों की गलतियों का
जज बन जाता है तो फैसले नही फासले हो जाते है!!
Khud Se Bahas Karoge To,
Sare Sawalon Ke Jawab Mil Jayenge!
Agar Dusron Se Karoge To Aur
Naye Sawal Khade Ho Jayenge!!
Jab Manushya Apni Galti Ka Wakeel
Aur Dusron Ki Galtiyon Ka Jaz Ban Jata Hai
To Faisle Nahi Fasle Ho Jate Hain!!!