Latest Collection of Happy Vijaya Dashami / Dussehra Wishes and Greeting Cards in Hindi Font With Images Share With Facebook and Whatsapp Friends and Family Status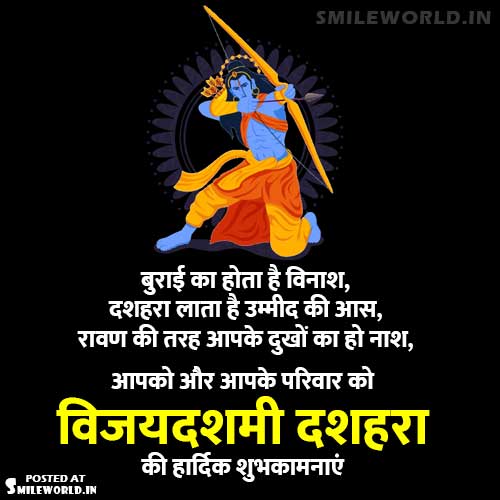 बुराई का होता है विनाश,
दशहरा लाता है उम्मीद की आस,
रावण की तरह आपके दुखों का हो नाश,
विजयदशमी की शुभकामनाऐं!!
Burai Ka Hota Hai Vinash,
Dussehra Lata Hai Umeed Ki Aas,
Ravan Ki Tarah Aapke Dukho Ka Ho Nash,
Vijaya Dashami Ki Hardik Shubhkamnaye!!
---
🌺दोस्तो🌺
चाय में गिरे मख्खी तो , तो चाय गिरा देता है ,मख्खी नही निकालता,,
घी में गिरे मख्खी तो, घी नही गिरायेगा, मख्खी निकाल के फैंक देंगा,,
और रिश्तो को निभाते हुए इंसान यही काम करता है,,
अमीर(जिसकी आपको ज़रूरत हो) की बड़ी गलतीं भी जज़्ब कर लेता है,
और गरीब (जिसकी ज़रूरत ना हो) की छोटी गलतीं से भी संबंध तुरंत तोड़ लेता है।
इंसान संबंध ज़रूरत के हिसाब से बनाता है ।
आईये इस मौका प्रस्त रावण को मारे,,और जीवन को दीपावली की तरफ ले जाये ,,
🎉विजयदशमी की हार्दिक शुभकामनाएं 🎉
---
मित्रों, मेरे अन्दर रावण पनपे तो उसे मारते रहियेगा।
मर्यादा पुरूषोत्तम श्री राम के पथ पर हम चलते रहें।
लेकिन बस किसी माँ सीता की अग्नि परीक्षा लेने का दुस्साहस ना करें।
दशहरे के इस पावन पर्व की हार्दिक शुभकामनाएँ।। 🌷🌸🌷
---
मुझे हैप्पी दशहरा की
इतनी बधाई मिल रही है,
जैसे रावण को मैंने ही मारा हो !!
😂😂😂  Dussehra  Funny Comments in Hindi
---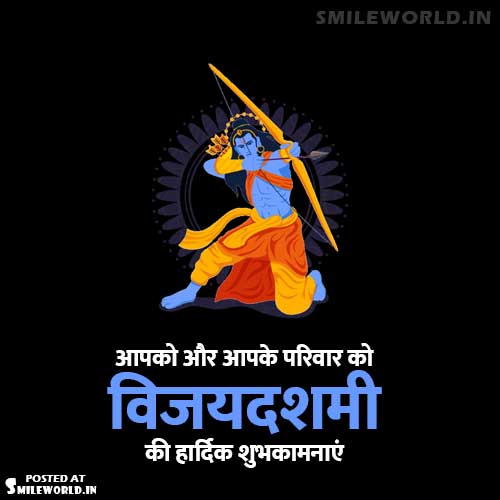 Happy dusshera to all the people
who have more than one face
---
हर साल हम रावण जलाते है,
काश एक साल अपने अंदर के रावण को भी जला देते।
आप सभी को दशहरा की बहुत बहुत बधाई।