Get Best Dhanteras Wishes in Hindi, Happy Dhanteras Greeting Cards, Quotes, Shubhkamnaye in Hindi Status Free Download Dhanteras Clipart Images for Facebook, Whatsapp, Instagram Status Update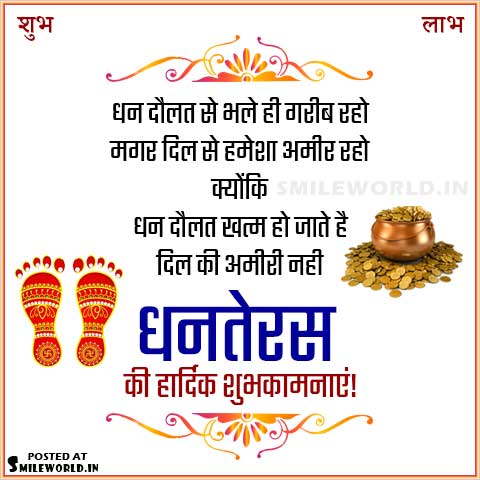 धन दौलत से भले ही गरीब रहो
मगर दिल से हमेशा अमीर रहो
क्योंकि
धन दौलत खत्म हो जाते है
दिल की अमीरी नही
शुभ धनतेरस
---
जिस धन की पीछे भाग रहा है तू,
वो सच्चा धन नहीं तेरा चंचल मन है
इच्छाओ की पूर्ति होती नहीं जीवन में,
जो आवश्यकताओ को पूरा कर जाएं
वो ही 'सच्चा' धन है।
---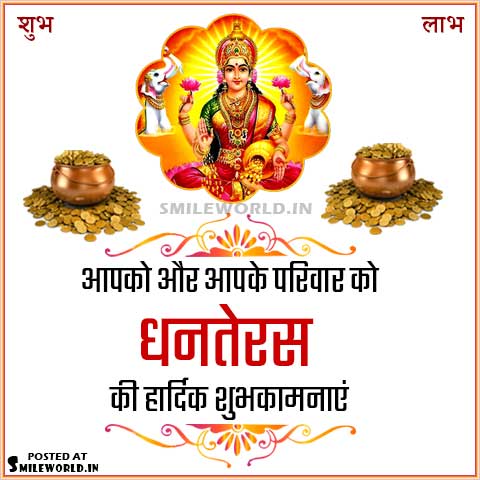 आपको और आपके परिवार को
धनतेरस की हार्दिक शुभकामनाएं
---
इस धनतेरस आपको,
धन मिले खुब सारा,
सम्पत्ति मिले हजार,
देने के लिए हाथ बड़े,
किसी से लेने की विकट समस्या ना आए,
आपको मेरे और मेरे परिवार के तरफ से,
शुभ धनतेरस।
---
धनतेरस के पावन पर्व पर
आपको हार्दिक बधाइयां एवं शुभकामनाएं !
माता महालक्ष्मी आपके घर में सुख समृद्धि बनाए रखें !
---
"धन" होते हुए भी किसी ग़रीब के लिए
तुम्हारे दिल में "तरस" ना आये,
तो कैसी "धनतेरस"..!
---
Happy Dhanteras to all….
May God bring happiness
and wealth to everyone…❣️
---
Dhanteras ke iss subh mauke par
sona chandi kharidna subh hota h aisa log kehte h …
Par sone chandi kharidne se acha hai
kisi jaruratmand ki help krna kyuki
woh jo aasirwad denge uss dhan se bada
or subh koi dusra dhan nhi hoga….
---
Aaj se aap ke yaha dhan Ki barsaat ho
Maa Laxmi ka esskadar niwas ho,
Sankat ka hmesha ke liye nash ho,
Sar pe life time unnati ka taj ho,
Aur jo aapke pass ho wo lajwaab ho..
#HappyDhanteras.
---
अपने जन्म काल से मृत्यु काल तक
कमाई हुई इज्जत ही आपकी असली पूंजी है,
धन के पीछे मत भागो निर्धन के साथ खड़े रहो,
उसके द्वारा दी गई दुआएं ही आपके भविष्य कीअसली पूंजी है!
धनतेरस के इस पावन पर्व की सभी को हार्दिक शुभकामनाएं
इस पोस्‍ट को भी देखें…
Happy Dhanteras Messages Images Wishes in Hindi