Best Wishes Images for Deepavali Festival for Facebook and Whatsapp Friends, Happy Diwali Greetings in Hindi Deepawali Wishes in Hindi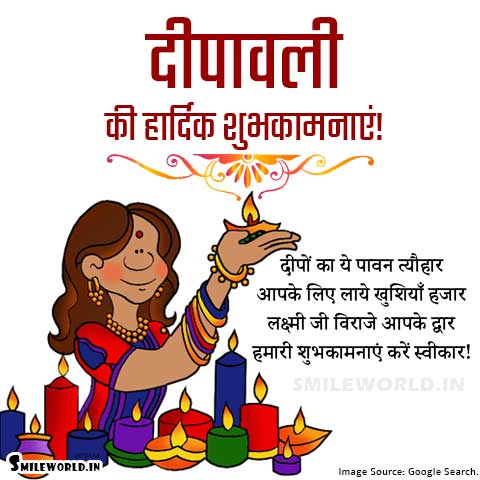 दीपों का ये पावन त्यौहार
आपके लिए लाये खुशियाॅं हजार
लक्ष्मी जी विराजे आपके द्वार
हमारी शुभकामनाएं करें स्वीकार!
Deepon Ka Ye Pawan Tyohar
Aapke Liye Laaye Khushiya Hazar
Laxmi Ji Viraje Aapke Duwar
Humari Subhkamnaye Kare Swikar!
Happy Deepavali
---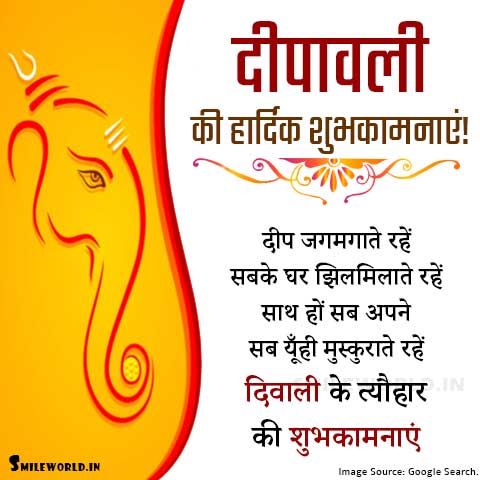 दीप जगमगाते रहें
सबके घर झिलमिलाते रहें
साथ हों सब अपने
सब यूँही मुस्कुराते रहें
!! दिवाली के त्यौहार की शुभकामनाएं !!
Deep Jagmate Rahein,
Sabke Ghar Jhilmilate Rahe,
Sath Ho Sab Apne,
Sab Yun He Muskurate Rahe,
Diwali Ke Tyohar Ki Shubhkamnaye!
---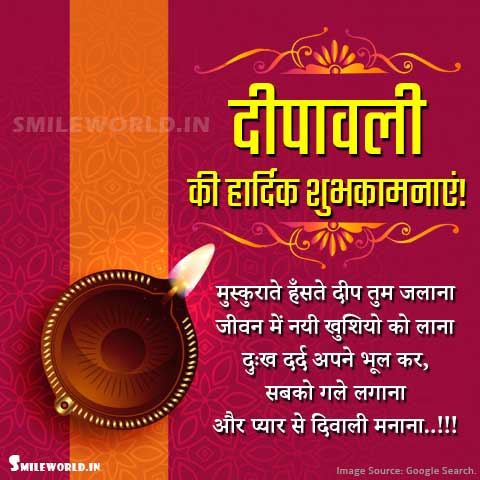 मुस्कुराते हँसते दीप तुम जलाना
जीवन में नयी खुशियो को लाना
दुःख दर्द अपने भूल कर,
सबको गले लगाना
और प्यार से दिवाली मनाना..!!!
!! दिवाली की शुभकामनाएं !!
Muskurate Haste Deep Tum Jalana,
Jeevan Mein Nai Khushiya Ko Lana,
Dukh Dard Apne Bhul Kar,
Sabko Gale Lagana,
Aur Pyar Se Diwali Manna
Diwali Ki Shubhkamnaye!
---
दीपावली के इस शुभ अवसर पर,
मेरी शुभकामनाए कुबूल कीजिये,,
ख़ुशी के इस माहोल में, हमको भी शामिल कीजिए!!
---
|| ॐ गणेशाय नमः ||
लक्ष्मीजी और गणेशजी की कृपा से आपको कामयाबी, सुख, शान्ति और समृद्धि प्रदान हो।
शुभ दीपावली
---
Deep jalate rahe jagmagaate rahe,
Hum aapko, aap hame yaad aate rahe..
Jab tak hai zindagi, duaa hai hamari,
Aap yohi diye ki tarha jagmagaate rahe!!
---
दीवाली है रौशनी का त्यौहार
लाये हर चेहरे पर मुस्कान
सुख और समृधि की बहार
समेट लो सारी खुशियाँ
अपनों का साथ और प्यार
इस पावन अवसर पर
आप सभी को दीवाली का प्यार
शुभ दीवाली
---
Dipaawali Par Hamari Shubhkamnaye
Khub Meete-Meete Pakwaan Khaaye,
Sehat Me 4 Chand Lagaye,
Log To Sirf Chand Par Gaye Hai
Aap Us Se Bhi Upar Jaaye,
Diwali Par Hamari Taraf Se Hardik Shubhkamnaye
---
दीयों की रोशनी से झिलमिलाता आँगन हो
पटाखों की गूंजों से आसमान रोशन हो
ऐसी आये झूम के यह दिवाली आपकी
हर तरफ खुशियों का ही मौसम हो
दिवाली की शुभकामनाएं
---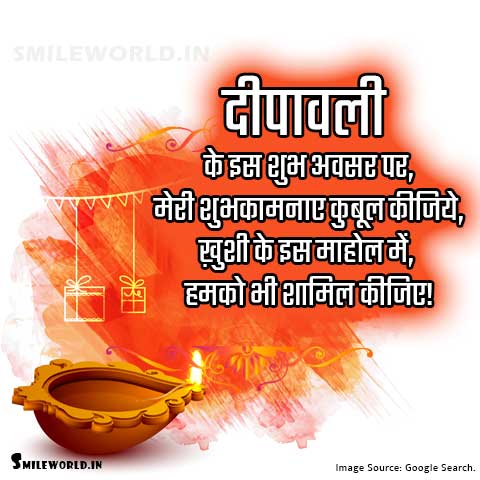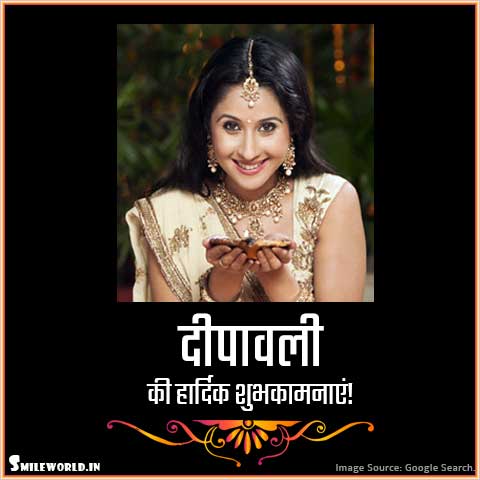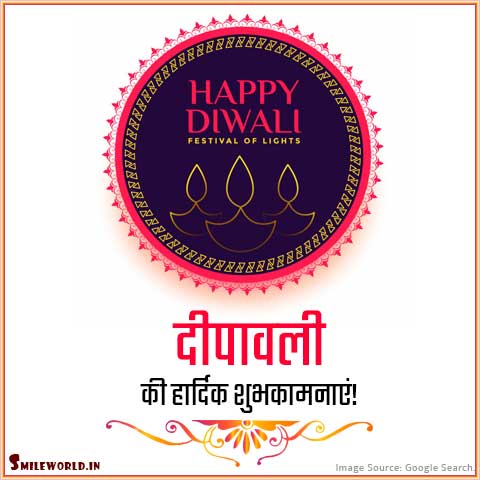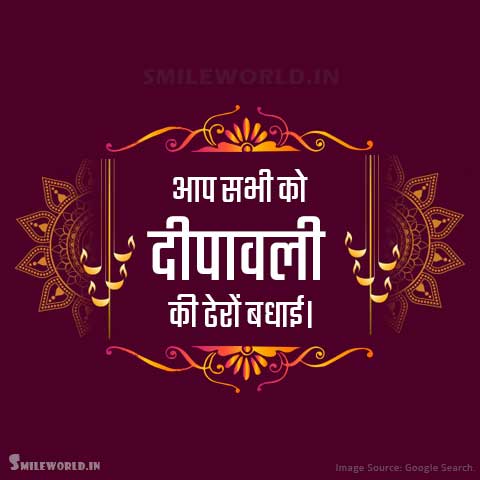 आप सभी को दीपावली की ढेरों बधाई।
Aap Sabhi Ko Deepawali Ki Dhero Badhai
---
How To Download Images for SmileWorld.in
Save image on your PC:
Right click on the diwali image you want to save.
Select "save image as" and save to your desired location.
On a mobile phone:
Long tap on a image displayed over.
select "save image" or download image" for the menu which pops out.