Happy Diwali Greeting Cards, Shubh Deepavali Wishes in Hindi With Images Share With Facebook, Instagram and Whatsapp Friends and Family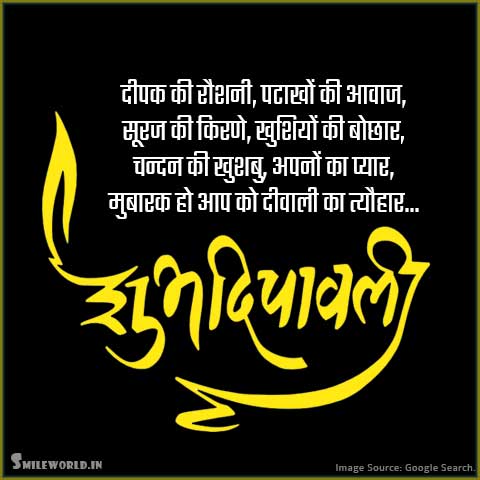 दीपक की रौशनी, पटाखों की आवाज,
सूरज की किरणे, खुशियों की बोछार,
चन्दन की खुशबु, अपनों का प्यार,
मुबारक हो आप को दीवाली का त्यौहार…
Deepak Ki Roshni, Pathakhon Ki Awaj,
Suraj Ki Kirne, Khushiyon Ki Bauchar,
Chandan Ki Khusboo, Apno Ka Pyar,
Mubarakh Ho Aap Ko Diwali Ka Tyohar!!
Wishe You A Very Happy Deepavali
---
दिवाली का त्यौहार बिना पटाखों के मनाना है,
सुरक्षित और अच्छे से खुशियाँ मानना है,
स्वच्छ भारत अभियान को आगे बढ़ाना है।
Happy Deepawali!
---
Deepon ki tarah tum sada jagmagaate raho,
Lakshmi ji ka aashirwaad paate raho,
Meri hai yeh shubhkaamna tumhe
Khush raho tum deerghaayu raho!!
Shubh deepawali!!
---
दीवाली है रौशनी का त्यौहार,
लाये हर चेहरे पर मुस्कान,
सुख और समृधि की बहार ,
समेट लो सारी खुशियाँ,
अपनों का साथ और प्यार
इस पावन अवसर पर
आप सभी को दीवाली का प्यार!
---
Diwali ke tyohaar ki shubhkamnaayen!
Deepawali ki shubh bela me
apne mann ka andhkaar mitaayen
Mithaiyaan khaayen, pataakhe chalaayen
Aur deepon ke is tyohaar ko manaayen
SHUBH DIWALI!
---
Roshani bhi hogi, honge chiraag bhi
Awaaz bhi hogi, honge saaz bhi
Par na hogi uski parchaai, na uski aaahat
Bohot sooni hogi yeh diwali
Bin sanam kaise milegi mujhe raahaat.
---
Deepawali ka yeh tyohaar
Lakshmiji viraajen aapke dwaar
Shubhkamnaayen!
---
May the festival of joy become
more beautiful for you and family.
All your new ventures get success and progress.
Happy Diwali!
---
Aayi hai Diwali dekho
Sang layi khushiya dekho
Yehan wahan jahan dekho
Aaj deep jagmagate dekho
Happy Diwali
---
Happiness is in air its Diwali everywhere
let's show some love,
care and wish everyone out there.
Shubh Diwali
---
Diyon ki roshni se jhilmilata aangan ho,
Patakhon ki goonjo se aasman roshan ho,
Aisi aaye jhoom ke yeh diwali,
Har taraf kushiyon ka hi mausam ho!!!
---
Let's make this Diwali joyous and bright,
Let's celebrate in true sense this festival of light.
Happy Deepawali
---
"हँसी की फुलझडी और खुशियों के बम।
फूटते रहें आपके लबों पर जनमों जनम।।
सब कुछ मिले आपको जो चाहे आप।
हकिकत में बदले आपके सारे ख्वाब।।
रंग लायें आपके दिल से किये जतन,
हंसी की फुलझडी और खुशियों के बम।।
आसान हो आपका मंजिल का सफर।
मुशि्कलों का न हो आप पर असर।।
न रूके, न थके कभी आपके कदम,
हंसी की फुलझडी और खुशियों के बम।।
प्यार की रोशनी में जगमगाते रहें आप।
खुशियों के दीप मन में सजाते रहें आप।।
इस बार की दिवाली कभी न हो खतम,
हंसी की फुलझडी और खुशियों के बम।।
खुशियों से सजी रहे आपके घर की थाली।
चलिये मनाते हैं आज इस तरह दीवाली।।
सबसे मिलें गले, क्या "दुश्मन", क्या "सनम"।
हंसी की फुलझडी और खुशियों के बम,
फूटते रहे आपके लबों पर जन्मों जनम।।"
Jyoti (Poetry & Ghazals)