Chaitra Navratri Wishes in Hindi Status for Whatsapp / Facebook Status Update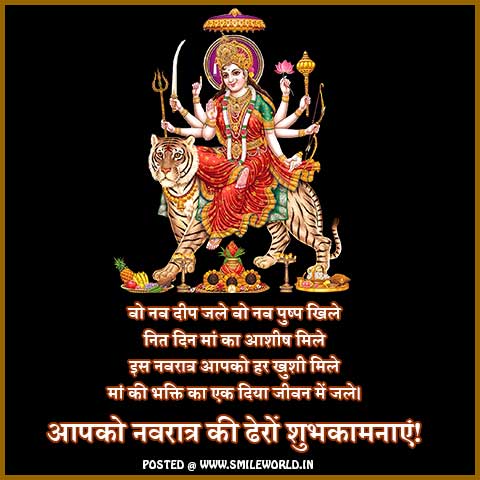 हम तैयार हैं, माता रानी आने वाली हैं
सज गया दरबार, जगदम्बे आने वाली हैं
तन और मन अब हो जाएगा पावन-पावन
मां के चरणों से आबाद होगा मेरे घर का आंगन।
Sending you warm wishes for
a Happy Chaitra Navratri!
May the day brings you good fortune and success.
May Maa Durga always bless you.
माता सबको दुलारती
कष्टों से उबारती
सब करते हैं आरती
जय माता रानी की।
चैत्र नवरात्रि की शुभकामनाएं
May the brightness of Navratri
Fill your days with cheer
May all your dreams come true
During Navratri and all through the year
Wishing you all a very Happy Navratri!
कुमकुम भरे कदमों से आएं मांग दुर्गा आपके द्वार
सुख संपत्ति मिले आपके परिजनों को अपार
मेरी ओर नवरात्र की शुभकामनाएं करें स्‍वीकार
सर्व मंगल मांगल्ये
शिवे सर्वार्थ साधिके
शरण्ये त्र्यम्बके गौरी
नारायणी नमोस्तुते
चैत्र नवरात्रि की हार्दिक शुभकामनाएं
Maa Durga aayi aapke sdwar,
karke 16 shringaar,
aapke jeevan mein na aaye kabhi haar,
hamesha rahe sukhi aapka ye parivaar.
Happy Navratri!
सारा जहां है जिसकी शरण में,
नमन है उस माँ के चरण में, हम है उस मां के चरणों की धूल,
आओ मिलकर माँ को चढ़ाएं श्रद्धा के फूल।
नवरात्रि की आपको ढेरों शुभ कामनाएं। शुभ नवरात्रि।
Hey maa sherawali,
mujhe iss navratri mein sirf ek cheez ki tamanna hai,
Jin jin ki aankhein ye pad rahi hain,
unka daaman sada khushiyon se bharna..
Shubh navratri!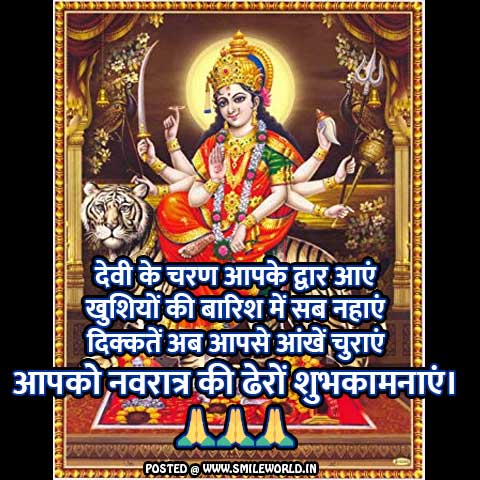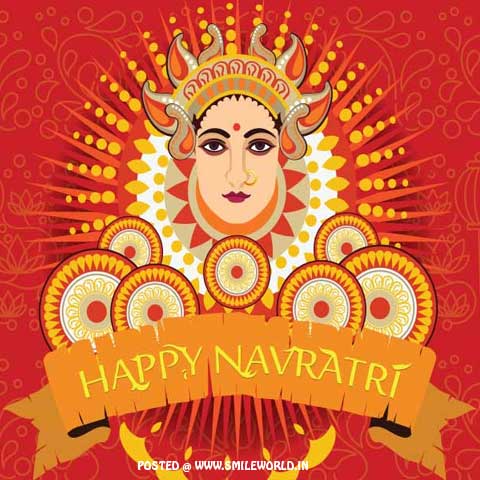 सारा जहां है जिसकी शरण में,
नमन है उस माँ के चरण में, हम है उस मां के चरणों की धूल,
आओ मिलकर माँ को चढ़ाएं श्रद्धा के फूल।
नवरात्रि की आपको ढेरों शुभ कामनाएं।
शुभ चैत्र नवरात्रि।
May the 9 avatars of
Maa Durga bless you with 9 qualities –
power, happiness, humanity, peace, knowledge,
devotion, name, fame and health.
Chaitra Happy Navratri!
दिव्य है मां की आंखों का नूर,
संकटों को मां करती हैं दूर,
मां की ये छवि निराली
नवरात्रि में आपके घर लाए खुशहाली।
Happy Navratri
माँ का पर्व आता है;
हज़ारों खुशियां लाता है;
इस बार माँ आपको वो सब दे;
जो आपका दिल चाहता है।
शुभ चैत्र नवरात्रि