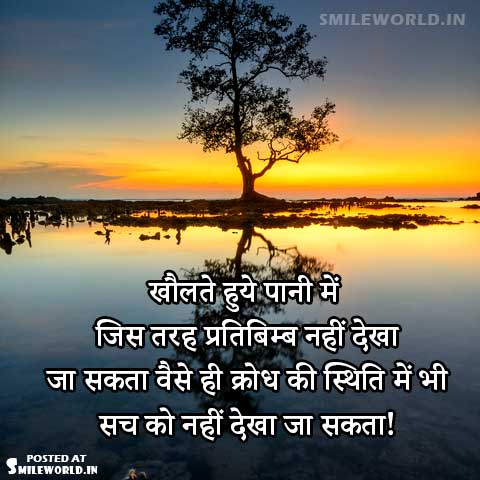 खौलते हुये पानी में जिस तरह प्रतिबिम्ब नहीं देखा
जा सकता वैसे ही क्रोध की स्थिति में भी
सच को नहीं देखा जा सकता!
Khaulte Huye Pani Mein Jis Tarah Pratibimb Nahi Dekha
Jaa Sakta Waise He Krodh Ki Sthiti Mein Bhi
Sach Ko Nahi Dekha Jaa Sakta…. Anger Hindi Quotes
---
आये क्यों क्रोध
करता जब शोध
तो होता बोध
कि हूँ मैं अबोध
---
Anger doesn't solve anything
It builds nothing
But
It can destroy everything.
---
"हूँ खाक मैं.. या आग हूँ..
या ज़िस्म पे.. कोई दाग हूँ.."
"हूँ सच्चा तेरा यार मैं..
या झूठा कोई ख्वाब हूँ..!"
"मैं क्रोध हूँ.. या मौन हूँ..
तू आ.. मुझे बतला के जा..
बतला के जा. मैं कौन हूँ..??"
---
Sometimes Slience is the best way to release
Your Anger rather than Shouting onto others!!!
---
Anger is a temporary emotion;
which kills all other emotions permanently.
---
Psychological theory for
getting rid of anger:
Pen down whatever you are
feeling on a piece of paper
Crush it hard
Unleash your anger on that paper
Throw it in a dustbin
Now take deep breaths
It will help you!
---
Release Your Anger,
Don't Retain,
Otherwise It Try To Control Your Mind,
And if Stay In Your Mind,
One Day Control Your Heart.