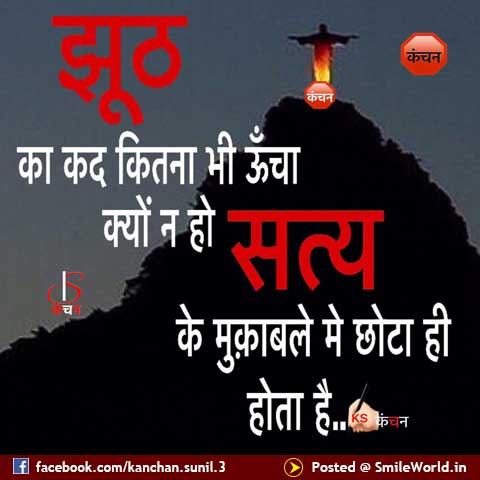 झूठ का कद कितना भी ऊँचा क्‍यो न हो,
सत्‍य के मुक़ाबले में छोटा ही होता है…
Jhooth Ka Kad Kitna Bhi Uncha Kyo Na Ho,
Satya Ke Muqable Main Chhota He Hota Hai!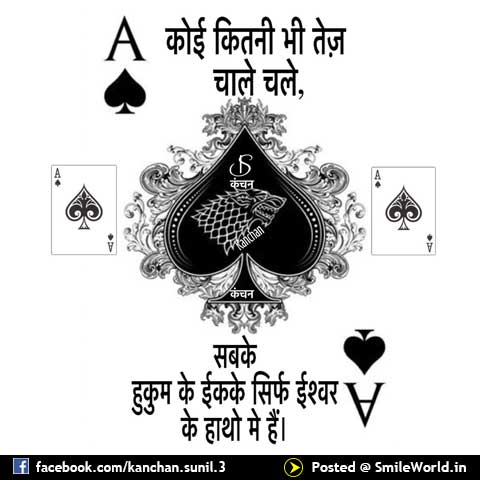 कोई कितनी भी तेज चाले चले,
सबके हुकुम के ईक्‍के सिर्फ ईश्‍वर के हाथों में हैं।
Koi Kitni Bhi Tez Chal Chale,
Sabke Hukum Ke Ikke Sirf Iswar Ke Hatho Main Hai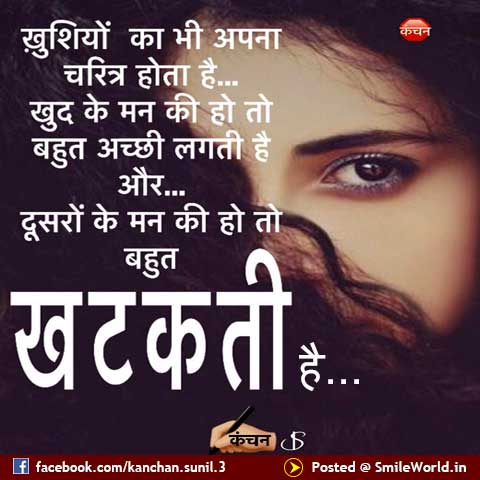 ख़ुशियों का भी अपना चरित्र होता है…
खुद के मन की हो तो बहुत अच्‍छी लगती है
और दूसरों के मन की हो तो बहुत खटकती है…
Khushiya Ka Bhi Apna Charitra Hota Hai,
Khud Ke Man Ki Ho To Bahut Acchi Lagti Hai,
Aur Dusre Ke Man Ki Ho To Bahut Khatakti Hai!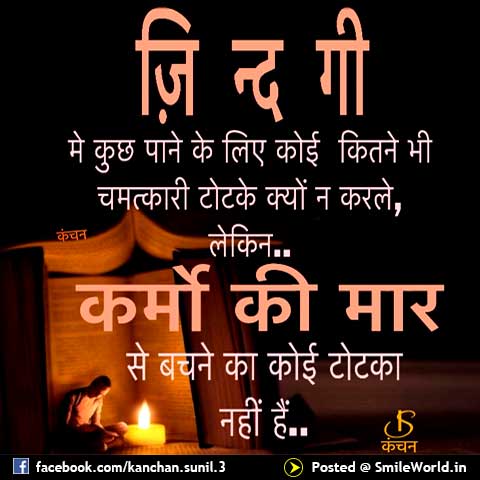 जि़न्‍दगी में कुछ पाने के लिए कोई कितने भी
चमत्‍कारी टोटके क्‍यों न करले,
लेकिन…
कर्मो की मार से बचने का कोई टोटका नहीं हैं….
Zindagi Main Kuch Pane Ke Liye Kitne Bhi
Chamatkar Totke Kyo Na Karlein,
Lekin… Karmo Ki Mar Se Bachne Ka
Koi Totka Nahi Hota!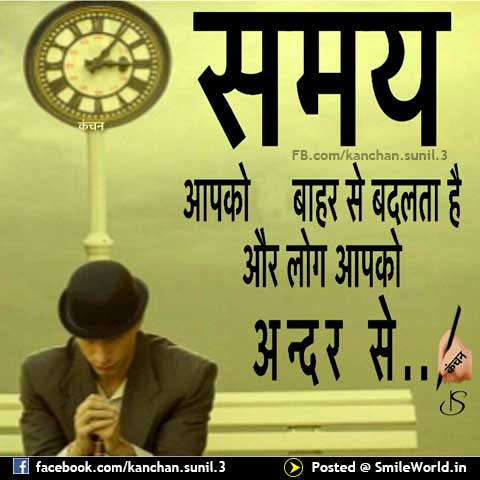 समय आपको बाहर से बदलता है,
और लोग आपको अंदर से…
Samay Aapko Bahar Se Badalta Hai,
Aur Log Aapko Andar Se…